Toyota Corolla: Other interior features / Assist grips
An assist grip installed on the ceiling can be used to support your body while sitting on the seat.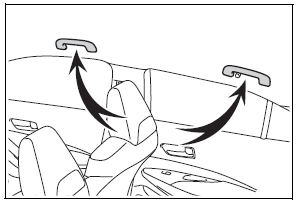 WARNING
■ Assist grip
Do not use the assist grip when getting in or out of the vehicle or rising from your seat.
NOTICE
■ To prevent damage to the assist grip
Do not hang any heavy object or put a heavy load on the assist grip.
The coat hooks are provided with the rear assist grips. WARNING ■ Items that cannot be hung on the coat hook Do not hang coat hangers or other hard or sharp objects on the hook...
Other information:
■ Door lock switches (to lock/unlock) 1 Locks all the doors<> 2 Unlocks all the doors ■ Inside lock buttons 1 Locks the door 2 Unlocks the door The front doors can be opened by pulling the inside handle even if the lock buttons are in the lock position...
Location of the interior lights A - Rear interior light B - Door trim lights C - Front interior/personal lights D - Center tray light E - Cup holder lights Operating the interior lights ■ Front 1 Turns the door position on/off When a door is opened while the door position is on, the lights turn on...