Toyota Corolla: If you have a flat tire (vehicles without spare tire) / Before repairing the tire
Stop the vehicle in a safe place on a hard, flat surface.
Set the parking brake.
Shift the shift lever to P (continuously variable transmission) or N (manual transmission).
Stop the engine.
Turn on the emergency flashers.
Check the degree of the tire damage.
A tire should only be repaired with the emergency tire puncture repair kit if the damage is caused by a nail or screw passing through the tire tread.
Do not remove the nail or screw from the tire. Removing the object may widen the opening and make emergency repair with the repair kit impossible.
To avoid sealant leakage, move the vehicle until the area of the puncture, if known, is positioned at the top of the tire.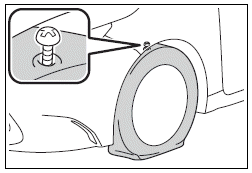 ■ A flat tire that cannot be repaired with the emergency tire puncture repair kit
In the following cases, the tire cannot be repaired with the emergency tire puncture repair kit. Contact your Toyota dealer.
When the tire is damaged due to driving without sufficient air pressure
When there are any cracks or damage at any location on the tire, such as on the side wall, except the tread
When the tire is visibly separated from the wheel
When the cut or damage to the tread is 0.16 in. (4 mm) long or more
When the wheel is damaged
When 2 or more tires have been punctured
When 2 or more sharp objects such as nails or screws have passed through the tread on a single tire
When the sealant has expired
Your vehicle is not equipped with a spare tire, but instead is equipped with an emergency tire puncture repair kit. A puncture caused by a nail or screw passing through the tire tread can be repaired temporarily using the emergency tire puncture repair kit...
A - Emergency tire puncture repair kit B - Towing eyelet..
Other information:
Important! Read this information before using Safety Connect. ■ Exposure to radio frequency signals The Safety Connect system installed in your vehicle is a low-power radio transmitter and receiver. It receives and also sends out radio frequency (RF) signals. In August 1996, the Federal Communications Commission (FCC) adopted RF exposure guidelines with safety levels for mobile wireless phones..
Check the battery as follows. ■ Battery exterior Make sure that the battery terminals are not corroded and that there are no loose connections, cracks, or loose clamps. A - Terminals B - Hold-down clamp ■ Before recharging When recharging, the battery produces hydrogen gas which is flammable and explosive. Therefore, observe the following precautions before recharging: If recharging with ..
Categories
The SRS airbags inflate when the vehicle is subjected to certain types of severe impacts that may cause significant injury to the occupants. They work together with the seat belts to help reduce the risk of death or serious injury.
SRS airbag system
■ Location of the SRS airbags