Toyota Corolla: Steps to take in an emergency / If you have a flat tire (vehicles without spare tire)
Your vehicle is not equipped with a spare tire, but instead is equipped with an emergency tire puncture repair kit.
A puncture caused by a nail or screw passing through the tire tread can be repaired temporarily using the emergency tire puncture repair kit. (The kit contains a bottle of sealant. The sealant can be used only once to temporarily repair one tire without removing the nail or screw from the tire.) After temporarily repairing the tire with the kit, have the tire repaired or replaced by your Toyota dealer.
WARNING
■ If you have a flat tire
Do not continue driving with a flat tire.
Driving even a short distance with a flat tire can damage the tire and the wheel beyond repair, which could result in an accident.
The multi-information display shows warnings for system malfunctions and incorrectly performed operations, and messages that indicate a need for maintenance...
Stop the vehicle in a safe place on a hard, flat surface. Set the parking brake. Shift the shift lever to P (continuously variable transmission) or N (manual transmission)...
Other information:
► 1.8 L 4-cylinder (2ZR-FAE) engine A - Washer fluid tank B - Engine coolant reservoir C - Fuse boxes D - Engine oil level dipstick E - Engine oil filler cap F - Battery G - Brake fluid reservoir H - Radiator I - Condenser J - Electric cooling fan ► 2...
When the engine switch is turned to ON, the red indicator light comes on for 2 seconds then turns off. Afterward, the green indicator light comes on, indicating that the service is active. The following indicator light patterns indicate specific system usage conditions: Green indicator light on = Active service Green indicator light flashing = Safety Connect call in process Red indicator lig..
Categories
Settings are available for clock, operation sounds, etc.
Displaying the general settings screen
1 Press the "MENU" button.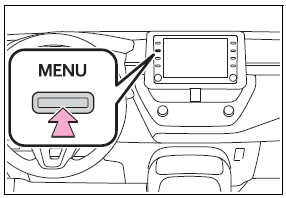 2 Select "Setup".
If the general settings screen is not displayed, select "General".
3 Select the desired items to be set.