Toyota Corolla: Radio operation. AM radio/FM radio/SiriusXM ® Satellite Radio(SXM) / Presetting a station. Selecting a station from the list
Presetting a station
Radio mode has a mix preset function, which can store up to 36 stations (6 stations per page x 6 pages) from any of the AM, FM or SXM bands.
1 Tune in the desired station.
2 Select and hold "(Hold Edit)".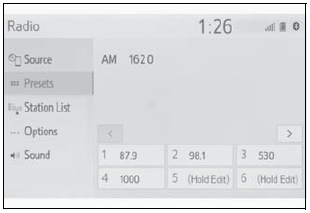 l To change the preset station to a different one, select and hold the preset station.
The number of preset radio stations displayed on the screen can be changed.
Selecting a station from the list
1 Select "Station List".
2 Select "AM", "FM" or "SXM".
Select the desired program genre when the genre selection screen is displayed.
3 Select the desired station.
■ Refreshing the station list
1 Select "Refresh".
"Cancel Refresh": Select to cancel the refresh.
"Source": Select to change to another audio source while refreshing.
The audio/visual system sound is muted during refresh operation.
In some situations, it may take some time to update the station list.
Radio options
1 Select "Options".
2 Select the desired item to be set.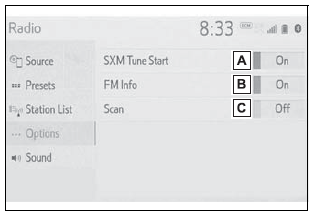 A - When "SXM Tune Start" is turned on, the current song is played from the beginning when you select the channel.
B - Analog FM only: Select to display RBDS text messages.
C - Select to scan for receivable stations.
Categories
■ Smart key system (if equipped)
Carry the electronic key to enable this function.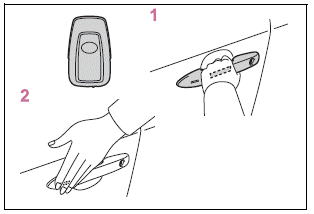 1 Grip the driver's door handle to unlock the door. Holding the driver's door handle for approximately 2 seconds unlocks all the doors. Grip the front passenger's door handle to unlock all the doors.*