Toyota Corolla: Radio operation. AM radio/FM radio/SiriusXM ® Satellite Radio(SXM) / Presetting a station. Selecting a station from the list
Presetting a station
Radio mode has a mix preset function, which can store up to 36 stations (6 stations per page x 6 pages) from any of the AM, FM or SXM bands.
1 Tune in the desired station.
2 Select and hold "(Hold Edit)".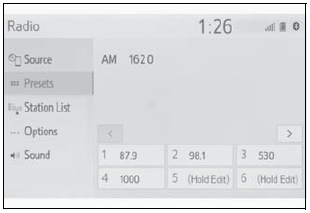 l To change the preset station to a different one, select and hold the preset station.
The number of preset radio stations displayed on the screen can be changed.
Selecting a station from the list
1 Select "Station List".
2 Select "AM", "FM" or "SXM".
Select the desired program genre when the genre selection screen is displayed.
3 Select the desired station.
■ Refreshing the station list
1 Select "Refresh".
"Cancel Refresh": Select to cancel the refresh.
"Source": Select to change to another audio source while refreshing.
The audio/visual system sound is muted during refresh operation.
In some situations, it may take some time to update the station list.
Radio options
1 Select "Options".
2 Select the desired item to be set.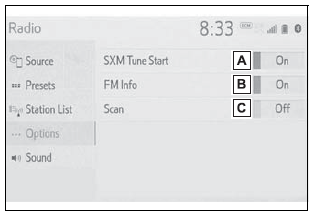 A - When "SXM Tune Start" is turned on, the current song is played from the beginning when you select the channel.
B - Analog FM only: Select to display RBDS text messages.
C - Select to scan for receivable stations.
Overview The radio operation screen can be reached by the following methods: Control screen A - Select to display the audio source selection screen. B - Select to display the preset stations screen...
This audio/visual system is equipped with Radio Broadcast Data Systems (RBDS). RBDS mode allows text messages to be received from radio stations that utilize RBDS transmitters...
Other information:
■ Drive information Displays drive information such as the following: A - Drive information type B - Drive information items Displays the following depending on which drive information type and drive information items were selected in . After start Distance: Displays the distance driven since engine start Elapsed time: Displays the elapsed time since engine start Average vehicle speed:..
Touch screen gestures Operations are performed by touching the touch screen directly with your finger. Flick operations may not be performed smoothly at high altitudes. Touch screen operation This system is operated mainly by the buttons on the screen. (Referred to as screen buttons in this manual.) When a screen button is touched, a beep sounds. (To set the beep sound: If the system does not ..
Categories
■ Smart key system (if equipped)
Carry the electronic key to enable this function.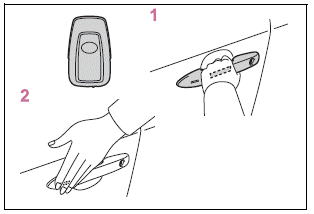 1 Grip the driver's door handle to unlock the door. Holding the driver's door handle for approximately 2 seconds unlocks all the doors. Grip the front passenger's door handle to unlock all the doors.*