Toyota Corolla: Audio
Carry out the necessary preparations and inspections before driving the vehicle in winter. Always drive the vehicle in a manner appropriate to the prevailing weather conditions...
Other information:
The laws of all 50 states of the U.S.A. as well as Canada now require the use of child restraint systems. Prioritize and observe the warnings, as well as the laws and regulations for child restraint systems. Use a child restraint system until the child becomes large enough to properly wear the vehicle's seat belt. Choose a child restraint system that suits your vehicle and is appropriat..
■ Certification Use of the Made for Apple badge means that an accessory has been designed to connect specifically to the Apple product(s) identified in the badge, and has been certified by the developer to meet Apple performance standards. Apple is not responsible for the operation of this device or its compliance with safety and regulatory standards. Please note that the use of this ..
Categories
The iMT optimally controls the engine speed to suit the driver's operation of the clutch pedal and shift lever, helping the driver to shift gears more smoothly. Additionally, when the clutch pedal is operated, the iMT helps reduce shift shock, allowing for lighter shift operations when driving on a winding road or incline.
Press the "iMT" switch.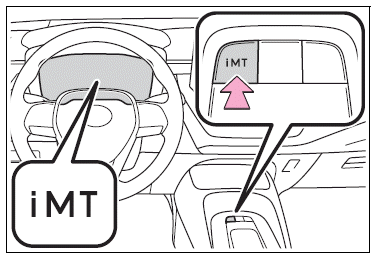 Copyright © 2022 www.tocorolla12.com