Toyota Corolla: Engine compartment / Components
► 1.8 L 4-cylinder (2ZR-FAE) engine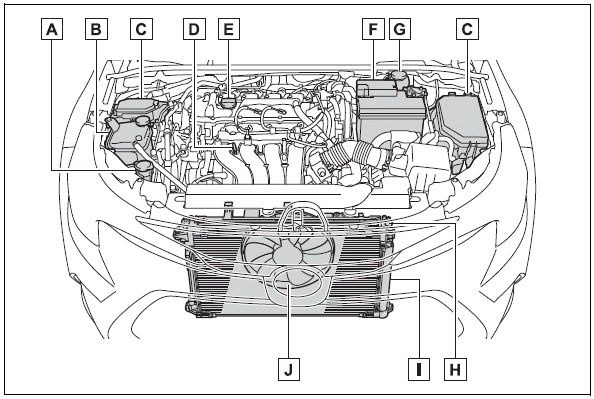 A - Washer fluid tank
B - Engine coolant reservoir
C - Fuse boxes
D - Engine oil level dipstick
E - Engine oil filler cap
F - Battery
G - Brake fluid reservoir
H - Radiator
I - Condenser
J - Electric cooling fan
► 2.0 L 4-cylinder (M20A-FKS) engine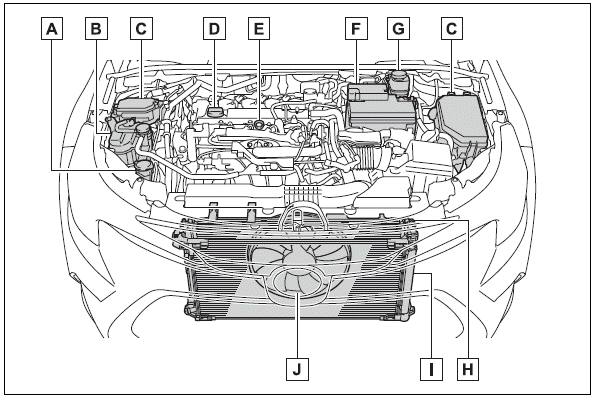 A - Washer fluid tank
B - Engine coolant reservoir
C - Fuse boxes
D - Engine oil filler cap
E - Engine oil level dipstick
F - Battery
G - Brake fluid reservoir
H - Radiator
I - Condenser
J - Electric cooling fan
With the engine at operating temperature and turned off, check the oil level on the dipstick. ■ Checking the engine oil 1 Park the vehicle on level ground...
Other information:
To change the set speed, press the "+RES" or "-SET" switch until the desired set speed is displayed. 1 Increases the speed 2 Decreases the speed Fine adjustment: Press the switch. Large adjustment: Press and hold the switch to change the speed, and release when the desired speed is reached...
When an Apple CarPlay connection is established, this function will be unavailable. When an Android Auto connection is established, some functions will be unavailable. Displaying the Bluetooth ® setup screen 1 Press the "MENU" button. 2 Select "Setup"...