Toyota Corolla: Engine compartment / Components
► 1.8 L 4-cylinder (2ZR-FAE) engine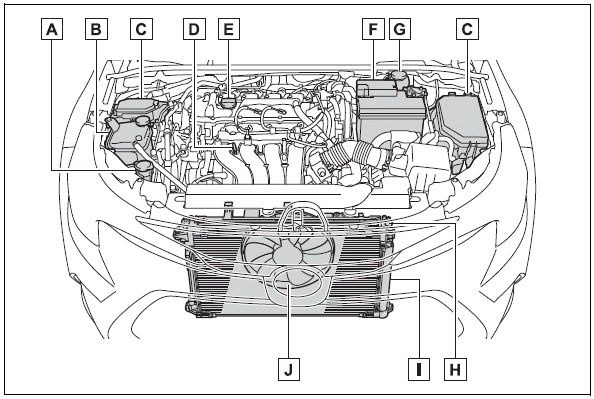 A - Washer fluid tank
B - Engine coolant reservoir
C - Fuse boxes
D - Engine oil level dipstick
E - Engine oil filler cap
F - Battery
G - Brake fluid reservoir
H - Radiator
I - Condenser
J - Electric cooling fan
► 2.0 L 4-cylinder (M20A-FKS) engine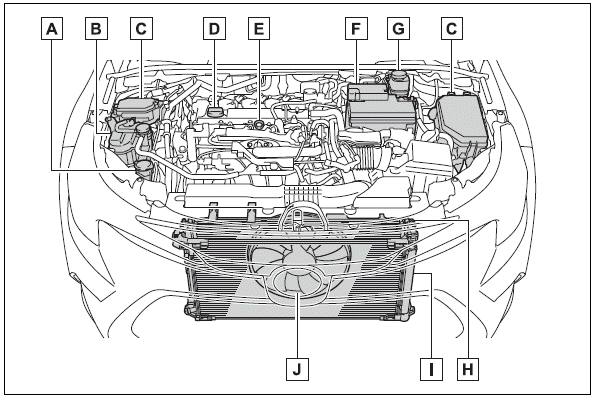 A - Washer fluid tank
B - Engine coolant reservoir
C - Fuse boxes
D - Engine oil filler cap
E - Engine oil level dipstick
F - Battery
G - Brake fluid reservoir
H - Radiator
I - Condenser
J - Electric cooling fan
With the engine at operating temperature and turned off, check the oil level on the dipstick. ■ Checking the engine oil 1 Park the vehicle on level ground...
Other information:
Your vehicle is equipped with a spare tire. The flat tire can be replaced with the spare tire. WARNING ■ If you have a flat tire Do not continue driving with a flat tire. Driving even a short distance with a flat tire can damage the tire and the wheel beyond repair, which could result in an accident...
In the event the vehicle is submerged in water, remain calm and perform the following. Remove the seat belt first. If the door can be opened, open the door and exit the vehicle. If the door can not be opened, open the window using the power window switch and exit the vehicle through the window...