Toyota Corolla: Steps to take in an emergency / If you think something is wrong
If you notice any of the following symptoms, your vehicle probably needs adjustment or repair. Contact your Toyota dealer as soon as possible.
Visible symptoms
Fluid leaks under the vehicle. (Water dripping from the air conditioning after use is normal.)
Flat-looking tires or uneven tire wear
Engine coolant temperature gauge needle continually points higher than normal.
Audible symptoms
Changes in exhaust sound
Excessive tire squeal when cornering
Strange noises related to the suspension system
Pinging or other noises related to the engine
Operational symptoms
Engine missing, stumbling or running roughly
Appreciable loss of power
Vehicle pulls heavily to one side when braking
Vehicle pulls heavily to one side when driving on a level road
Loss of brake effectiveness, spongy feeling, pedal almost touches the floor
If a tow truck is not available in an emergency, your vehicle may be temporarily towed using cables or chains secured to the emergency towing eyelets...
To minimize the risk of fuel leakage when the engine stalls or when an airbag inflates upon collision, the fuel pump shut off system stops the supply of fuel to the engine...
Other information:
In the event the vehicle is submerged in water, remain calm and perform the following. Remove the seat belt first. If the door can be opened, open the door and exit the vehicle. If the door can not be opened, open the window using the power window switch and exit the vehicle through the window...
Take notice of the following information about storage precautions, cargo capacity and load: Capacity and distribution Cargo capacity depends on the total weight of the occupants. (Cargo capacity) = (Total load capacity) — (Total weight of occupants) Steps for Determining Correct Load Limit — (1) Locate the statement "The combined weight of occupants and cargo should never exceed XXX kg or..
Categories
■ Trunk opener
Pull the lever upward to release the trunk lid.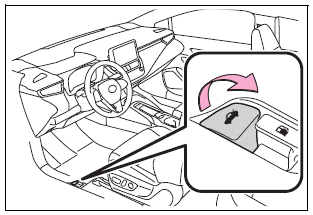 ■ Trunk release button (vehicles with a smart key system)
While carrying the electronic key, press the button on the trunk lid.
When all the doors are unlocked using one of the following methods, the trunk can be opened without the electronic key:
Entry function Wireless remote control Door lock switches Automatic door unlocking system Mechanical key