Toyota Corolla: Manual transmission / iMT (Intelligent Manual Transmission)
The iMT optimally controls the engine speed to suit the driver's operation of the clutch pedal and shift lever, helping the driver to shift gears more smoothly. Additionally, when the clutch pedal is operated, the iMT helps reduce shift shock, allowing for lighter shift operations when driving on a winding road or incline.
Press the "iMT" switch.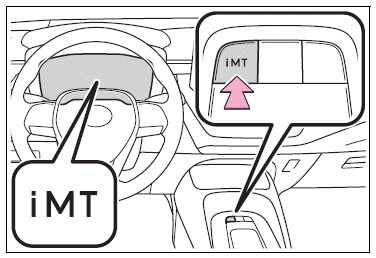 The iMT indicator will illuminate in green.
Press the switch again to cancel iMT.
■The iMT may not operate when
In the following situations, iMT may not operate. However, this does not indicate a malfunction.
The clutch pedal is not fully depressed
The clutch pedal is not fully released, such as if a foot is resting on the clutch pedal*
Shift operation is performed after the vehicle has been coasting with the shift lever in N
The shift lever is not operated for a long time after the clutch pedal is depressed
■If the iMT indicator illuminates in amber
The iMT may be temporarily unavailable or malfunctioning. Have the vehicle inspected at your Toyota dealer.
WARNING
■Limitations of the iMT
iMT is not a system that prevents shift lever operation error or engine overrevving. Depending on the situation, iMT may not operate normally and the shift position may not be changed smoothly. Overly relying on iMT may cause an unexpected accident.
Operating instructions ■ Shifting the shift lever 1 Depress the clutch pedal firmly. 2 Shift the shift lever to the desired gear. Make sure to only shift gears sequentially...
Operating instructions 1 Right turn 2 Lane change to the right (move the lever partway and release it) The right hand signals will flash 3 times. 3 Lane change to the left (move the lever partway and release it) The left hand signals will flash 3 times...
Other information:
When using a floor jack, follow the instructions in the manual provided with the jack and perform the operation safely. When raising your vehicle with a floor jack, position the jack correctly. Improper placement may damage your vehicle or cause injury...
Phone screen operation The phone screen can be reached by the following methods: ► From the "PHONE" button Press the "PHONE" button. ► From the "MENU" button Press the "MENU" button, then select "Phone". Bluetooth® hands-free system operation The following functions can be used on phone operation: Registering/connecting a Bluetooth® device Placing a call using the Blu..