Toyota Corolla: If your vehicle needs to be towed / Emergency towing (vehicles with a towing eyelet)
If a tow truck is not available in an emergency, your vehicle may be temporarily towed using cables or chains secured to the emergency towing eyelets. This should only be attempted on hard surfaced roads for at most 50 miles (80 km) at under 18 mph (30 km/h).
A driver must be in the vehicle to steer and operate the brakes. The vehicle's wheels, drive train, axles, steering and brakes must be in good condition.
For vehicles with a continuously variable transmission, only the front towing eyelets may be used.
Emergency towing procedure (vehicles with a towing eyelet)
To have your vehicle towed by another vehicle, the towing eyelet must be installed to your vehicle. Install the towing eyelet using the following procedure.
1 Take out the wheel nut wrench(if equipped) and towing eyelet.
2 Remove the eyelet cover using a flathead screwdriver.
To protect the bodywork, place a rag between the screwdriver and the vehicle body as shown in the illustration.
► 1.8 L 4-cylinder (2ZR-FAE) engine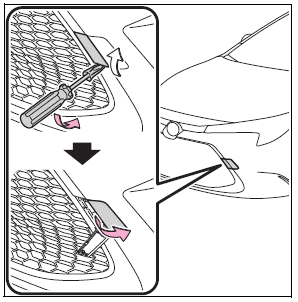 ► 2.0 L 4-cylinder (M20A-FKS) engine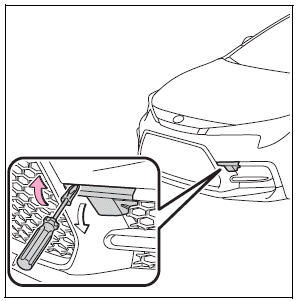 3 Insert the towing eyelet into the hole and tighten partially by hand.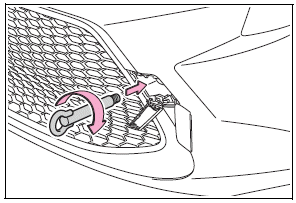 4 Tighten down the towing eyelet securely using a wheel nut wrench (if equipped) or hard metal bar.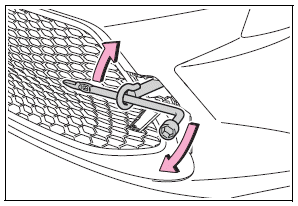 5 Securely attach cables or chains to the towing eyelet.
Take care not to damage the vehicle body.
6 Enter the vehicle being towed and start the engine.
If the engine does not start, turn the engine switch to ON.
7 Shift the shift lever to N and release the parking brake. Vehicles with electric parking brake: Turn automatic mode off.
■ While towing (vehicles with a towing eyelet)
If the engine is not running, the power assist for the brakes and steering will not function, making steering and braking more difficult.
■ Wheel nut wrench (vehicles with a towing eyelet)
Vehicle without wheel nut wrench: Wheel nut wrench can be purchased at your Toyota dealer.
Vehicle with wheel nut wrench: Wheel nut wrench is installed in trunk.