Toyota Corolla: Other interior features / Power outlet
The power outlet can be used for 12 V accessories that run on less than 10 A.
Lift the lid while pulling up the knob and open the power outlet lid.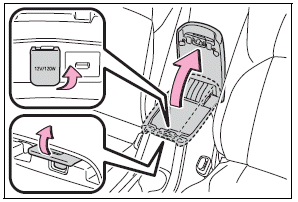 ■ The power outlet can be used when
The engine switch is in ACC or ON.
■ When turning the engine switch off
Disconnect electrical devices with charging functions, such as mobile battery packs.
If such devices are left connected, the engine switch may not be turned off normally.
NOTICE
■To prevent the fuse from being blown
Do not use an accessory that uses more than 12 V 10 A.
■To avoid damaging the power outlet
Close the power outlet lid when the power outlet is not in use. Foreign objects or liquids that enter the power outlet may cause a short circuit.
■ To prevent the battery from being discharged
Do not use the power outlet longer than necessary when the engine is not running.
Categories
The iMT optimally controls the engine speed to suit the driver's operation of the clutch pedal and shift lever, helping the driver to shift gears more smoothly. Additionally, when the clutch pedal is operated, the iMT helps reduce shift shock, allowing for lighter shift operations when driving on a winding road or incline.
Press the "iMT" switch.