Toyota Corolla: Doors / Rear door child-protector lock
The door cannot be opened from inside the vehicle when lock is set.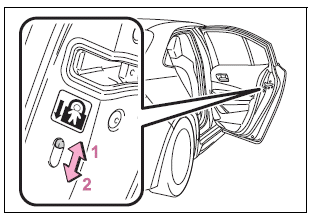 1 Unlock
2 Lock
These locks can be set to prevent children from opening the rear doors. Push down on each rear door switch to lock both rear doors.
■ Door lock switches (to lock/unlock) 1 Locks all the doors<> 2 Unlocks all the doors ■ Inside lock buttons 1 Locks the door 2 Unlocks the door The front doors can be opened by pulling the inside handle even if the lock buttons are in the lock position...
The following functions can be set or canceled: For instructions on customizing, ..
Other information:
You must only use unleaded gasoline. Select octane rating of 87 (Research Octane Number 91) or higher. Use of unleaded gasoline with an octane rating lower than 87 may result in engine knocking. Persistent knocking can lead to engine damage. At minimum, the gasoline you use should meet the specifications of ASTM D4814 in the U.S.A. ■ Gasoline quality In very few cases, driveability problems m..
On the home screen, multiple screens, such as the audio/visual system screen, hands-free screen and clock screen, can be displayed simultaneously. Home screen operation 1 Press the "HOME" button. 2 Check that the home screen is displayed. Selecting a screen will display it full screen. The display information and area on the home screen can be customized. The home screen can be set to se..
Categories
■ Smart key system (if equipped)
Carry the electronic key to enable this function.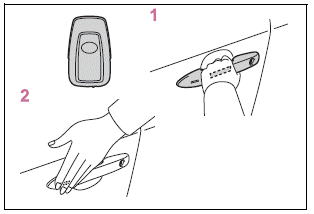 1 Grip the driver's door handle to unlock the door. Holding the driver's door handle for approximately 2 seconds unlocks all the doors. Grip the front passenger's door handle to unlock all the doors.*