Toyota Corolla: Garage door opener / System components
The HomeLink® wireless control system in your vehicle has 3 buttons which can be programmed to operate 3 different devices. Refer to the programming methods on the following pages to determine the method which is appropriate for the device.
A - HomeLink® indicator light
B - Garage door operation indicators
C - HomeLink® icon Illuminates while HomeLink® is operating.
D - Buttons
■ Codes stored in the Home- Link® memory
The registered codes are not erased even if the battery cable is disconnected.
If learning failed when registering a different code to a HomeLink® button that already has a code registered to it, the already registered code will not be erased.
WARNING
■ When programming a garage door or other remote control device
The garage door or other device may operate, so ensure people and objects are out of danger to prevent potential harm.
■ Conforming to federal safety standards
Do not use the HomeLink® compatible transceiver with any garage door opener or device that lacks safety stop and reverse features as required by federal safety standards.
This includes any garage door that cannot detect an interfering object. A door or device without these features increases the risk of death or serious injury.
■ When operating or programming HomeLink®
Never allow a child to operate or play with the HomeLink® buttons.
Categories
■ Trunk opener
Pull the lever upward to release the trunk lid.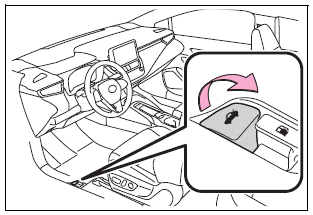 ■ Trunk release button (vehicles with a smart key system)
While carrying the electronic key, press the button on the trunk lid.
When all the doors are unlocked using one of the following methods, the trunk can be opened without the electronic key:
Entry function Wireless remote control Door lock switches Automatic door unlocking system Mechanical key