Toyota Corolla: Other interior features / Garage door opener
The garage door opener can be programmed using the HomeLink® to operate garage doors, gates, entry doors, door locks, home lighting systems, security systems, and other devices.
Categories
The contrast and brightness of the screen display and the image of the camera display can be adjusted. The screen can also be turned off, and/or changed to either day or night mode.
(For information regarding audio/visual screen adjustment)
Displaying the screen adjustment screen
1 Press the "MENU" button.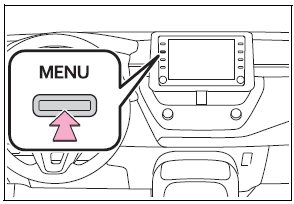 Copyright © 2023 www.tocorolla12.com