Toyota Corolla: Tire information / Tire section names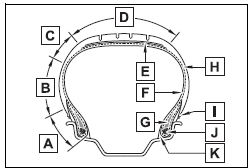 A - Bead
B - Sidewall
C - Shoulder
D - Tread
E - Belt
F - Inner liner
G - Reinforcing rubber
H - Carcass
I - Rim lines
J - Bead wires
K - Chafer
This information has been prepared in accordance with regulations issued by the National Highway Traffic Safety Administration of the U.S. Department of Transportation...
Other information:
The pre-collision system uses a radar sensor and front camera to detect objects (Ā®P.206) in front of the vehicle. When the system determines that the possibility of a frontal collision with an object is high, a warning operates to urge the driver to take evasive action and the potential brake pressure is increased to help the driver avoid the collision...
When replacing tires or wheels, tire pressure warning valves and transmitters must also be installed. When new tire pressure warning valves and transmitters are installed, new ID codes must be registered in the tire pressure warning computer and the tire pressure warning system must be initialized...
Categories
Press the appropriate Home- LinkĀ® button. The HomeLinkĀ® indicator light should turn on.
The status of the opening and closing of a garage door is shown by the indicators.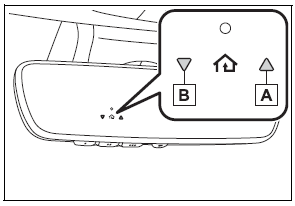 Copyright Ā© 2023 www.tocorolla12.com