Toyota Corolla: Tire information / Tire section names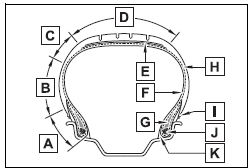 A - Bead
B - Sidewall
C - Shoulder
D - Tread
E - Belt
F - Inner liner
G - Reinforcing rubber
H - Carcass
I - Rim lines
J - Bead wires
K - Chafer
This information has been prepared in accordance with regulations issued by the National Highway Traffic Safety Administration of the U.S. Department of Transportation...
Other information:
By connecting a device to the vehicle via Wi-FiĀ®, it can access the internet through the DCM. To use this function, a Wi-FiĀ® Hotspot service subscription from Verizon Wireless is required. Contact your Toyota dealer for details. This function is not made available in some countries or areas...
ā–  Lane departure alert function When the system determines that the vehicle might depart from its lane or course*, a warning is displayed on the multi-information display, and a warning buzzer will sound to alert the driver. When the warning buzzer sounds, check the area around your vehicle and carefully operate the steering wheel to move the vehicle back to the center of the lane...
Categories
Press the appropriate Home- LinkĀ® button. The HomeLinkĀ® indicator light should turn on.
The status of the opening and closing of a garage door is shown by the indicators.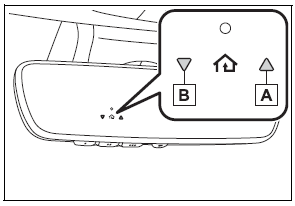 Copyright Ā© 2022 www.tocorolla12.com