Toyota Corolla: Tire information / Tire section names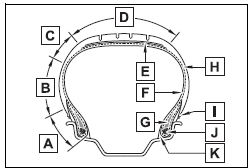 A - Bead
B - Sidewall
C - Shoulder
D - Tread
E - Belt
F - Inner liner
G - Reinforcing rubber
H - Carcass
I - Rim lines
J - Bead wires
K - Chafer
This information has been prepared in accordance with regulations issued by the National Highway Traffic Safety Administration of the U.S. Department of Transportation...
Other information:
If the engine is stopped with the shift lever in a position other than P, the engine switch will not be turned off but instead be turned to ACC. Perform the following procedure to turn the switch off: 1 Check that the parking brake is set. 2 Shift the shift lever to P...
Touch screen gestures Operations are performed by touching the touch screen directly with your finger. Flick operations may not be performed smoothly at high altitudes. Touch screen operation This system is operated mainly by the buttons on the screen...
Categories
Press the appropriate Home- LinkĀ® button. The HomeLinkĀ® indicator light should turn on.
The status of the opening and closing of a garage door is shown by the indicators.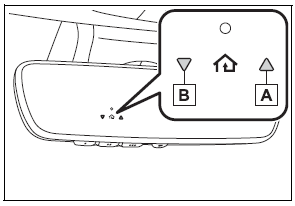 Copyright Ā© 2023 www.tocorolla12.com