Toyota Corolla: Audio / Toyota apps settings. Setup
The settings of Toyota apps can be changed.
Displaying the Toyota apps settings screen
1 Press the "MENU" button.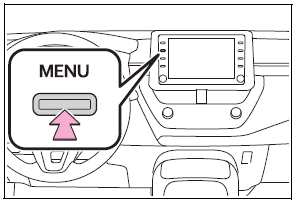 2 Select "Setup".
3 Select "Toyota apps".
4 Select the desired items to be set.
Toyota apps settings screen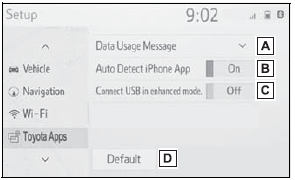 A - Select to set the pop up reminder for smart phone data usage.
B - Select to detect iPhone app automatically on/off.
C - Select to set the enhanced mode with connecting USB device on/off.
When an iPhone is connected while this setting is set to "On", communication with devices connected to other USB ports may not be possible. Also, depending on the device, charging may not be possible.
D - Select to reset all setup items.
Data use notification pop-up settings
The data use notification pop-up, which indicates that the system will use an internet connection, can be enabled/disabled.
1 Display the Toyota apps settings screen.
2 Select "Data Usage Message".
3 Change the setting as desired.
A keyword can be entered to an application by the software keyboard or voice recognition function. The keyboard layout can be changed. Entering a keyword using the software keyboard 1 Display the application screen...
Other information:
► Full-size tire A - Tire size B - DOT and Tire Identification Number (TIN) C - Uniform tire quality grading For details, see "Uniform Tire Quality Grading" that follows. D - Location of treadwear indicators E - Tire ply composition and materials Plies are layers of rubber-coated parallel cords. Cords are the strands which form the plies in a tire. F - Radial tires or bias-ply tires A radi..
Audio screen adjustment ■ Screen format settings The screen format can be selected for USB video. 1 Press the "MENU" button. 2 Select "Setup". 3 Select "Audio". 4 Select "Common". 5 Select "Screen Format". 6 Select the desired item to be adjusted. A Select to display a 4 : 3 screen, with either side in black. B Select to enlarge the image horizontally and vertically to full ..
Categories
The iMT optimally controls the engine speed to suit the driver's operation of the clutch pedal and shift lever, helping the driver to shift gears more smoothly. Additionally, when the clutch pedal is operated, the iMT helps reduce shift shock, allowing for lighter shift operations when driving on a winding road or incline.
Press the "iMT" switch.