Toyota Corolla: Voice command system operation. Voice command system / Using the voice command system
■ Steering switch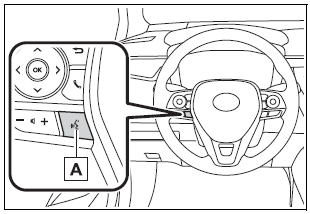 A - Talk switch
► Voice command system
Press the talk switch to start the voice command system. To cancel voice command, press and hold the talk switch.
► When an Apple Car- Play/Android Auto connection is established
Press and hold the talk switch to start Siri/Google Assistant. To cancel Siri/Google Assistant, press the talk switch.
Press the talk switch to start the voice command system.
■ Microphone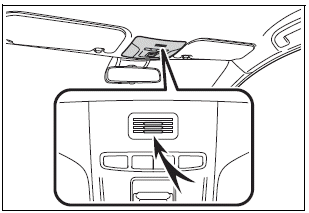 It is unnecessary to speak directly into the microphone when giving a command.
Voice commands may not be recognized if:

Spoken too quickly.
Spoken at a low or high volume.
The windows are open.
Passengers are talking while voice commands are spoken.
The fan speed of the air conditioning system is set at high.
The air conditioning vents are turned towards the microphone.

In the following conditions, the system may not recognize the command properly and using voice commands may not be possible:

The command is incorrect or unclear. Note that certain words, accents or speech patterns may be difficult for the system to recognize.
There is excessive background noise, such as wind noise.

Normally, it is necessary to wait for a beep before saying a command. To enable the ability to talk over prompts and say commands before the beep, enable the voice prompt interrupt function.
This system may not operate immediately after the engine switch is in ACC or ON.
NOTICE
Do not touch and put a sharp object to the microphone. It may cause failure.
Categories
Press the appropriate Home- Link® button. The HomeLink® indicator light should turn on.
The status of the opening and closing of a garage door is shown by the indicators.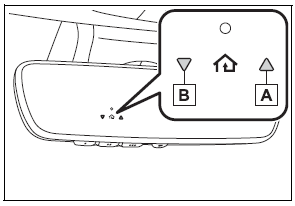 Copyright © 2023 www.tocorolla12.com