Toyota Corolla: Audio / Voice command system operation. Voice command system
The voice command system enables the radio, phone dialing, etc. to be operated using voice commands. Refer to the command list for samples of voice commands.
â–  Steering switch A - Talk switch â–º Voice command system Press the talk switch to start the voice command system. To cancel voice command, press and hold the talk switch...
Other information:
Received messages can be forwarded from the connected Bluetooth® phone, enabling checking and replying using the system. Depending on the type of Bluetooth® phone connected, received messages may not be transferred to the system. If the phone does not support the message function, this function cannot be used...
â–º Vehicles without a smart key system 1 Remove the key cover. To prevent damage to the key, cover the tip of the flathead screwdriver with a rag. 2 Remove the battery cover. If the battery cover is difficult to remove, lift the edge to remove it. 3 Remove the depleted battery using a small flathead screwdriver...
Categories
â–  Trunk opener
Pull the lever upward to release the trunk lid.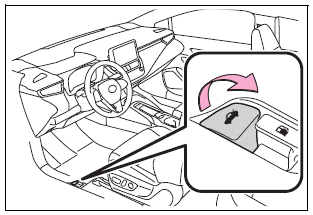 â–  Trunk release button (vehicles with a smart key system)
While carrying the electronic key, press the button on the trunk lid.
When all the doors are unlocked using one of the following methods, the trunk can be opened without the electronic key:
Entry function Wireless remote control Door lock switches Automatic door unlocking system Mechanical key