Toyota Corolla: Engine (ignition) switch (vehicles without a smart key system) / Changing the engine switch positions
1 OFF ("LOCK" position)
The steering wheel is locked and the key can be removed. (vehicles with a continuously variable transmission: The key can be removed only when the shift lever is in P.)
2 ACC ("ACC" position)
Some electrical components such as the audio system can be used.
3 ON ( "ON" position)
All electrical components can be used.
4 START ( "START" position)
For starting the engine.
■Turning the key from ACC to OFF
1 Shift the shift lever to P (continuously variable transmission) or N (manual transmission).
2 Push in the key and turn it to OFF.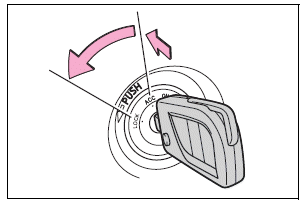 ■Key reminder function
A buzzer sounds if the driver's door is opened while the engine switch is in OFF or ACC to remind you to remove the key.
WARNING
■Caution when driving
Do not turn the engine switch to OFF while driving. If, in an emergency, you must turn the engine off while the vehicle is moving, turn the engine switch only to ACC to stop the engine. An accident may result if the engine is stopped while driving.
NOTICE
■To prevent battery discharge
Do not leave the engine switch in ACC or ON for long periods of time without the engine running.
Starting the engine 1 Check that the parking brake is set. (®P.180, 181) 2 Check that the shift lever is in P (continuously variable transmission) or N (manual transmission)...
Performing the following operations when carrying the electronic key on your person starts the engine or changes engine switch modes...
Other information:
■ Changing the display Press the display change button until the desired item is displayed. ■ Display items Odometer Displays the total distance the vehicle has been driven. Trip meter A/Trip meter B Displays the distance the vehicle has been driven since the meter was last reset. Trip meters A and B can be used to record and display different distances independently. To reset, displa..
To change the set speed, press the "+RES" or "-SET" switch until the desired set speed is displayed. 1 Increases the speed 2 Decreases the speed Fine adjustment: Press the switch. Large adjustment: Press and hold the switch to change the speed, and release when the desired speed is reached. In the vehicle-to-vehicle distance control mode, the set speed will be increased or decreased as..
Categories
Meter display
■ Locations of gauges and meters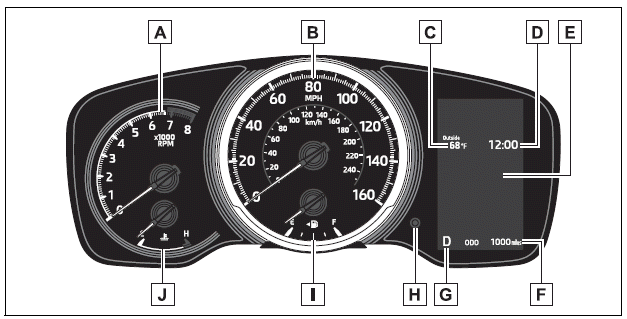 The units of measure may differ depending on the intended destination of the vehicle.
A - Tachometer Displays the engine speed in revolutions per minute