Toyota Corolla: Driving procedures / Engine (ignition) switch (vehicles without a smart key system)
Starting the engine
1 Check that the parking brake is set. (®P.180, 181)
2 Check that the shift lever is in P (continuously variable transmission) or N (manual transmission).
3 Firmly depress the brake pedal (continuously variable transmission) or clutch pedal (manual transmission).
4 Turn the engine switch to START to start the engine.
■If the engine does not start
The engine immobilizer system may not have been deactivated. (®P.80) Contact your Toyota dealer.
■When the steering lock cannot be released
When starting the engine, the engine switch may seem stuck in OFF. To free it, turn the key while turning the steering wheel slightly left and right.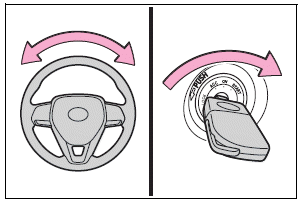 WARNING
■When starting the engine
Always start the engine while sitting in the driver's seat. Do not depress the accelerator pedal while starting the engine under any circumstances. Doing so may cause an accident resulting in death or serious injury.
NOTICE
■When starting the engine
Do not crank the engine for more than 30 seconds at a time. This may overheat the starter and wiring system.
Do not race a cold engine.
If the engine becomes difficult to start or stalls frequently, have your vehicle checked by your Toyota dealer immediately.
1 OFF ("LOCK" position) The steering wheel is locked and the key can be removed. (vehicles with a continuously variable transmission: The key can be removed only when the shift lever is in P...
Other information:
New contact data can be registered. Up to 4 numbers per person can be registered. For PBAP compatible Bluetooth® phones, this function is available when "Automatic Transfer" is set to off. 1 Select "New Contact". 2 Enter the name and select "OK"...
Received messages can be forwarded from the connected Bluetooth® phone, enabling checking and replying using the system. Depending on the type of Bluetooth® phone connected, received messages may not be transferred to the system. If the phone does not support the message function, this function cannot be used...
Categories
The iMT optimally controls the engine speed to suit the driver's operation of the clutch pedal and shift lever, helping the driver to shift gears more smoothly. Additionally, when the clutch pedal is operated, the iMT helps reduce shift shock, allowing for lighter shift operations when driving on a winding road or incline.
Press the "iMT" switch.