Toyota Corolla: Vehicle specifications / Customization. Customizable features
Your vehicle includes a variety of electronic features that can be personalized to suit your preferences. The settings of these features can be changed using the multi-information display, the audio system screen, or at your Toyota dealer.
■ Changing by using the audio system screen 1 Press the "MENU" button. 2 Select "Setup" on the "Menu" screen. 3 Select "General" or "Vehicle" on the "Setup" screen...
Other information:
On the home screen, multiple screens, such as the audio/visual system screen, hands-free screen and clock screen, can be displayed simultaneously. Home screen operation 1 Press the "HOME" button. 2 Check that the home screen is displayed. Selecting a screen will display it full screen...
■ The tire pressure warning system must be initialized in the following circumstances: When rotating front and rear tires which have different tire inflation pressures. When changing the tire size. When the tire inflation pressure is changed such as when changing traveling speed or load weight...
Categories
Settings are available for clock, operation sounds, etc.
Displaying the general settings screen
1 Press the "MENU" button.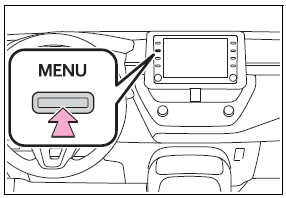 2 Select "Setup".
If the general settings screen is not displayed, select "General".
3 Select the desired items to be set.