Toyota Corolla: Radio operation. AM radio/FM radio/SiriusXM ® Satellite Radio(SXM) / Displaying the radio ID
Each SiriusXM tuner is identified with a unique radio ID. The radio ID is required when activating an SiriusXM service or when reporting a problem.
If "Ch 000" is selected using the "TUNE SCROLL" knob, the ID code, which is 8 alphanumeric characters, will be displayed. If another channel is selected, the ID code will no longer be displayed. The channel (000) alternates between displaying the radio ID and the specific radio code.
Categories
Press the appropriate Home- Link® button. The HomeLink® indicator light should turn on.
The status of the opening and closing of a garage door is shown by the indicators.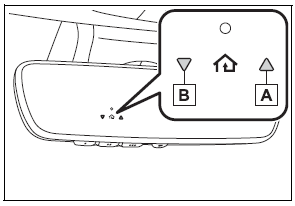 Copyright © 2023 www.tocorolla12.com