Toyota Corolla: Basic information before operation / Screen adjustment
The contrast and brightness of the screen display and the image of the camera display can be adjusted. The screen can also be turned off, and/or changed to either day or night mode.
(For information regarding audio/visual screen adjustment)
Displaying the screen adjustment screen
1 Press the "MENU" button.
2 Select "Display".
3 Select the desired items to be set.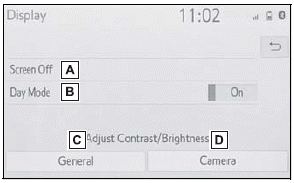 A - Select to turn the screen off. To turn it on, press any button.
B - Select to turn day mode on/off.
C - Select to adjust the screen display.
D - Select to adjust the camera display.
When the screen is viewed through polarized sunglasses, a rainbow pattern may appear on the screen due to optical characteristics of the screen. If this is disturbing, please operate the screen without polarized sunglasses.
Changing between day and night mode
Depending on the position of the headlight switch, the screen changes to day or night mode. This feature is available when the headlight is switched on. Select "Day Mode".
If the screen is set to day mode with the headlight switch turned on, this condition is memorized even with the engine turned off.
Adjusting the contrast/ brightness
The contrast and brightness of the screen can be adjusted according to the brightness of your surroundings.
1 Select "General" or "Camera".
2 Select the desired item.
"Display (General)" screen only:
Select "<" or ">" to select the desired display.
l "Contrast"
"+": Select to strengthen the contrast of the screen.<> "-": Select to weaken the contrast of the screen.
l "Brightness"
"+": Select to brighten the screen.<> "-": Select to darken the screen.
Entering letters and numbers When searching by a name or entering data, letters and numbers can be entered via the screen. A - Text field. Entered character( s) will be displayed...
The following functions of the system are linked with the multi-information display in the instrument cluster: Audio Phone* These functions can be operated using multi-information display control switches on the steering wheel...
Other information:
In the event the vehicle is submerged in water, remain calm and perform the following. Remove the seat belt first. If the door can be opened, open the door and exit the vehicle. If the door can not be opened, open the window using the power window switch and exit the vehicle through the window...
The indicators inform the driver of the operating state of the vehicle's various systems. Turn signal indicator Headlight indicator Tail light indicator Headlight high beam indicator Automatic High Beam indicator PCS warning light Cruise control indicator Dynamic radar cruise control indicator Cruise control "SET" indicator LTA indicator BSM outside rear view mirror indicators BSM indi..