Toyota Corolla: Basic information before operation / Initial screen
When the engine switch is turned to ACC or ON, the initial screen will be displayed and the system will begin operating.
Caution screen
After a few seconds, the caution screen will be displayed.
After about 5 seconds or selecting "Continue", the caution screen automatically switches to the next screen.
WARNING
When the vehicle is stopped with the engine running, always apply the parking brake for safety.
Restarting the system
When system response is extremely slow, the system can be restarted.
Press and hold the "POWER VOLUME" knob for 3 seconds or more.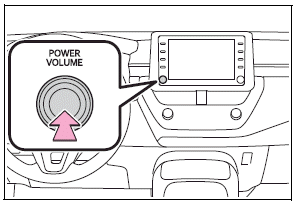 Touch screen gestures Operations are performed by touching the touch screen directly with your finger. Flick operations may not be performed smoothly at high altitudes...
Other information:
When constant speed control mode is selected, your vehicle will maintain a set speed without controlling the vehicle-to-vehicle distance. Select this mode only when vehicle-to-vehicle distance control mode does not function correctly due to a dirty radar, etc...
Steering switch operation Some parts of the audio/visual system can be adjusted using the switches on the steering wheel. A - Volume control switch B - "MODE" switch C - switch In the APPS mode, some operation may be done on the screen depend on the selected APPS...
Categories
The contrast and brightness of the screen display and the image of the camera display can be adjusted. The screen can also be turned off, and/or changed to either day or night mode.
(For information regarding audio/visual screen adjustment)
Displaying the screen adjustment screen
1 Press the "MENU" button.