Toyota Corolla: Basic information before operation / Touch screen
Touch screen gestures
Operations are performed by touching the touch screen directly with your finger.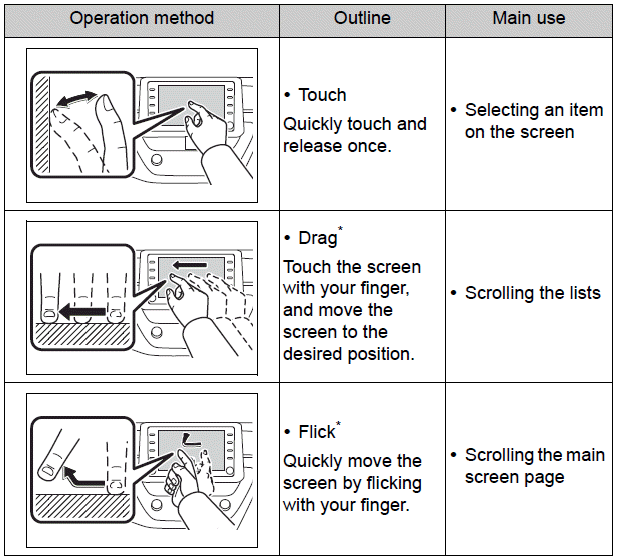 Flick operations may not be performed smoothly at high altitudes.
Touch screen operation
This system is operated mainly by the buttons on the screen. (Referred to as screen buttons in this manual.)
When a screen button is touched, a beep sounds. (To set the beep sound:
If the system does not respond to touching a screen button, move your finger away from the screen and then touch it again.
Dimmed screen buttons cannot be operated.
●The displayed image may become darker and moving images may be slightly distorted when the screen is cold.
●In extremely cold conditions, the screen may not be displayed and the data input by a user may be deleted. Also, the screen buttons may be harder than usual to depress.
●When you look at the screen through polarized material such as polarized sunglasses, the screen may be dark and hard to see. If so, look at the screen from different angles, adjust the screen settings on the display settings screen or take off your sunglasses.
●When is displayed on the screen, select to return to the previous screen.
NOTICE
To prevent damaging the screen, lightly touch the screen buttons with your finger.
Do not use objects other than your finger to touch the screen.
Wipe off fingerprints using a glass cleaning cloth. Do not use chemical cleaners to clean the screen, as they may damage the touch screen.
Capacitive touch screen buttons
The operable areas of the capacitive touch screen buttons use capacitive touch sensors and may not operate properly in the following situations:
If the screen is dirty or wet
If a source of strong electromagnetic waves is brought near the screen
If a glove is worn during operation
If the screen is touched by a fingernail
If a stylus is used to operate the buttons
If your palm touches the operable area of another button during operation
If a button is touched quickly
If the operable part of a capacitive touch screen button is touched by or covered with a metal object, such as the following, it may not operate properly:
Magnetic isolation cards
Metallic foil, such as the inner packaging of a cigarette box
Metallic wallets or bags
Coins
Discs, such as a CD or DVD
If the operable part of a capacitive touch screen button is wiped, it may operate unintentionally.
If the capacitive touch screen button is being touched when the engine switch is changed to ACC or ON, the button may not operate properly. In this case, remove anything touching the button, turn the engine switch off and then turn it to ACC or ON, or restart the system by press and hold the "POWER VOLUME" knob for 3 seconds or more.
Categories
■ Trunk opener
Pull the lever upward to release the trunk lid.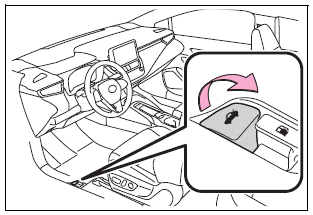 ■ Trunk release button (vehicles with a smart key system)
While carrying the electronic key, press the button on the trunk lid.
When all the doors are unlocked using one of the following methods, the trunk can be opened without the electronic key:
Entry function Wireless remote control Door lock switches Automatic door unlocking system Mechanical key