Toyota Corolla: Safety Connect / Safety Connect LED light Indicators
When the engine switch is turned to ON, the red indicator light comes on for 2 seconds then turns off. Afterward, the green indicator light comes on, indicating that the service is active.
The following indicator light patterns indicate specific system usage conditions:
Green indicator light on = Active service
Green indicator light flashing = Safety Connect call in process
Red indicator light (except at vehicle start-up) = System malfunction (contact your Toyota dealer)
No indicator light (off) = Safety Connect service not active
Categories
Meter display
■ Locations of gauges and meters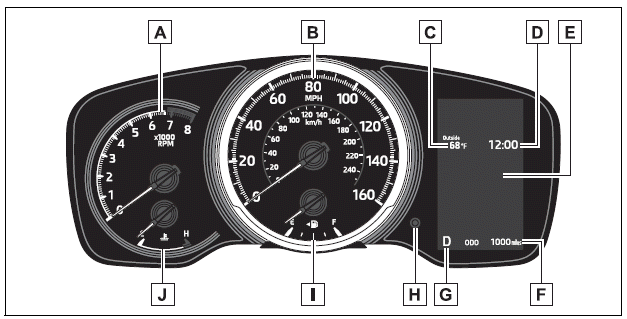 The units of measure may differ depending on the intended destination of the vehicle.
A - Tachometer Displays the engine speed in revolutions per minute
Copyright © 2023 www.tocorolla12.com