Toyota Corolla: Tire information / Typical DOT and Tire Identification Number (TIN)
► Type A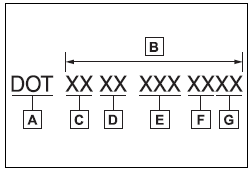 A - DOT symbol
B - Tire Identification Number (TIN)
C - Tire manufacturer's identification mark
D - Tire size code
E - Manufacturer's optional tire type code (3 or 4 letters)
F - Manufacturing week
G - Manufacturing year
► Type B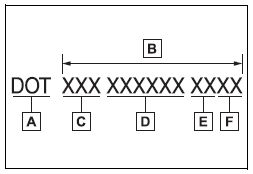 A - DOT symbol
B - Tire Identification Number (TIN)
C - Tire manufacturer's identification mark
D - Manufacturer's code
E - Manufacturing week
F - Manufacturing year
► Full-size tire A - Tire size B - DOT and Tire Identification Number (TIN) C - Uniform tire quality grading For details, see "Uniform Tire Quality Grading" that follows...
■ Typical tire size information The illustration indicates typical tire size. A - Tire use (P = Passenger car, T = Temporary use) B - Section width (millimeters) C - Aspect ratio (tire height to section width) D - Tire construction code (R = Radial, D = Diagonal) E - Wheel diameter (inches) F - Load index (2 digits or 3 digits) G - Speed symbol (alphabet with one letter) ■ Tire dimensions A ..
Other information:
1 Press the automatic mode switch. 2 Adjust the temperature setting. 3 To stop the operation, press the off switch. If the fan speed setting or air flow modes are operated, the automatic mode indicator goes off. However, automatic mode for functions other than that operated is maintained. ■ Using automatic mode Fan speed is adjusted automatically according to the temperature setting and the am..
Two types of sensors, located behind the front grille and windshield, detect information necessary to operate the drive assist systems. A - Radar sensor B - Front camera WARNING ■To avoid malfunction of the radar sensor Observe the following precautions. Otherwise, the radar sensor may not operate properly, possibly leading to an accident resulting in death or serious injury. Keep the radar..
Categories
The contrast and brightness of the screen display and the image of the camera display can be adjusted. The screen can also be turned off, and/or changed to either day or night mode.
(For information regarding audio/visual screen adjustment)
Displaying the screen adjustment screen
1 Press the "MENU" button.