Toyota Corolla: Tire information / Typical DOT and Tire Identification Number (TIN)
► Type A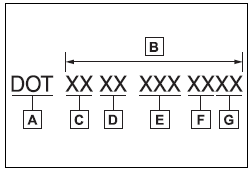 A - DOT symbol
B - Tire Identification Number (TIN)
C - Tire manufacturer's identification mark
D - Tire size code
E - Manufacturer's optional tire type code (3 or 4 letters)
F - Manufacturing week
G - Manufacturing year
► Type B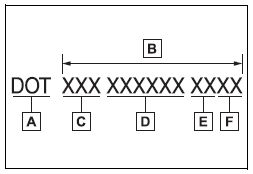 A - DOT symbol
B - Tire Identification Number (TIN)
C - Tire manufacturer's identification mark
D - Manufacturer's code
E - Manufacturing week
F - Manufacturing year
► Full-size tire A - Tire size B - DOT and Tire Identification Number (TIN) C - Uniform tire quality grading For details, see "Uniform Tire Quality Grading" that follows...
■ Typical tire size information The illustration indicates typical tire size. A - Tire use (P = Passenger car, T = Temporary use) B - Section width (millimeters) C - Aspect ratio (tire height to section width) D - Tire construction code (R = Radial, D = Diagonal) E - Wheel diameter (inches) F - Load index (2 digits or 3 digits) G - Speed symbol (alphabet with one letter) ■ Tire dimensions A ..
Other information:
If you are experiencing difficulties with Apple CarPlay/Android Auto, check the following table. *: Applications not compatible with Apple CarPlay are applications installed on the iPhone that are not displayed on the Apple CarPlay screen application list. (such as visual voicemail)..
Contacts can be transferred from a Bluetooth® phone to this system. Contacts and favorites can be added, edited and deleted. Also, the call history can be deleted. 1 Display the phone settings screen. 2 Select "Contacts/Call History". 3 Select the desired item to be set. A - For PBAP compatible Bluetooth ® phones: Select to change the contact/history transfer settings. B - Select to updat..
Categories
The contrast and brightness of the screen display and the image of the camera display can be adjusted. The screen can also be turned off, and/or changed to either day or night mode.
(For information regarding audio/visual screen adjustment)
Displaying the screen adjustment screen
1 Press the "MENU" button.