Toyota Corolla: Tire information / Typical DOT and Tire Identification Number (TIN)
► Type A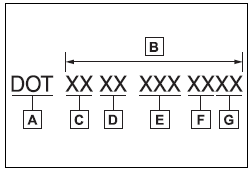 A - DOT symbol
B - Tire Identification Number (TIN)
C - Tire manufacturer's identification mark
D - Tire size code
E - Manufacturer's optional tire type code (3 or 4 letters)
F - Manufacturing week
G - Manufacturing year
► Type B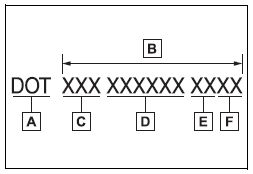 A - DOT symbol
B - Tire Identification Number (TIN)
C - Tire manufacturer's identification mark
D - Manufacturer's code
E - Manufacturing week
F - Manufacturing year
► Full-size tire A - Tire size B - DOT and Tire Identification Number (TIN) C - Uniform tire quality grading For details, see "Uniform Tire Quality Grading" that follows...
■ Typical tire size information The illustration indicates typical tire size. A - Tire use (P = Passenger car, T = Temporary use) B - Section width (millimeters) C - Aspect ratio (tire height to section width) D - Tire construction code (R = Radial, D = Diagonal) E - Wheel diameter (inches) F - Load index (2 digits or 3 digits) G - Speed symbol (alphabet with one letter) ■ Tire dimensions A ..
Other information:
When replacing tires or wheels, tire pressure warning valves and transmitters must also be installed. When new tire pressure warning valves and transmitters are installed, new ID codes must be registered in the tire pressure warning computer and the tire pressure warning system must be initialized. Have tire pressure warning valves and transmitter ID codes registered by your Toyota dealer. ■..
The alarm uses light and sound to give an alert when an intrusion is detected. The alarm is triggered in the following situations when the alarm is set: A locked door or trunk is unlocked or opened in any way other than using the entry function (if equipped), wireless remote control, mechanical key (if equipped) or key (if equipped). (The doors will lock again automatically.) The hood is o..
Categories
The contrast and brightness of the screen display and the image of the camera display can be adjusted. The screen can also be turned off, and/or changed to either day or night mode.
(For information regarding audio/visual screen adjustment)
Displaying the screen adjustment screen
1 Press the "MENU" button.