Toyota Corolla: Tire information / Typical DOT and Tire Identification Number (TIN)
► Type A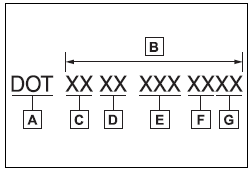 A - DOT symbol
B - Tire Identification Number (TIN)
C - Tire manufacturer's identification mark
D - Tire size code
E - Manufacturer's optional tire type code (3 or 4 letters)
F - Manufacturing week
G - Manufacturing year
► Type B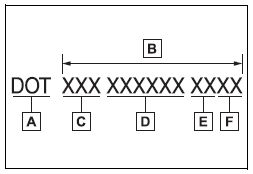 A - DOT symbol
B - Tire Identification Number (TIN)
C - Tire manufacturer's identification mark
D - Manufacturer's code
E - Manufacturing week
F - Manufacturing year
► Full-size tire A - Tire size B - DOT and Tire Identification Number (TIN) C - Uniform tire quality grading For details, see "Uniform Tire Quality Grading" that follows...
■ Typical tire size information The illustration indicates typical tire size. A - Tire use (P = Passenger car, T = Temporary use) B - Section width (millimeters) C - Aspect ratio (tire height to section width) D - Tire construction code (R = Radial, D = Diagonal) E - Wheel diameter (inches) F - Load index (2 digits or 3 digits) G - Speed symbol (alphabet with one letter) ■ Tire dimensions A ..
Other information:
Up to 5 Bluetooth® devices can be registered. Bluetooth® compatible phones (HFP) and audio players (AVP) can be registered simultaneously. This operation cannot be performed while driving. 1 Display the Bluetooth® settings screen. 2 Select "Add New Device". ► When another Bluetooth® device is connected To disconnect the Bluetooth® device, select "Yes". ► When 5 Bluetooth® device..
1 OFF ("LOCK" position) The steering wheel is locked and the key can be removed. (vehicles with a continuously variable transmission: The key can be removed only when the shift lever is in P.) 2 ACC ("ACC" position) Some electrical components such as the audio system can be used. 3 ON ( "ON" position) All electrical components can be used. 4 START ( "START" position) For starting..
Categories
The contrast and brightness of the screen display and the image of the camera display can be adjusted. The screen can also be turned off, and/or changed to either day or night mode.
(For information regarding audio/visual screen adjustment)
Displaying the screen adjustment screen
1 Press the "MENU" button.