Toyota Corolla: Maintenance data (fuel, oil level, etc.) / Vehicle identification
■ Vehicle identification number
The vehicle identification number (VIN) is the legal identifier for your vehicle. This is the primary identification number for your Toyota. It is used in registering the ownership of your vehicle.
On some models: This number is stamped under the right-hand front seat.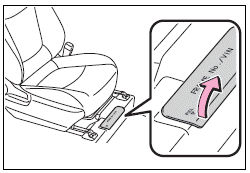 This number is also stamped on the top left of the instrument panel.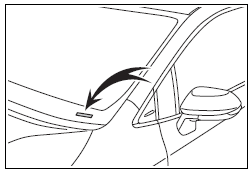 This number is also on the Certification Label.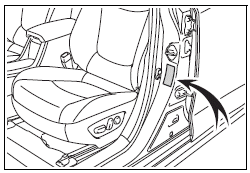 ■ Engine number
The engine number is stamped on the engine block as shown.
► 1.8 L 4-cylinder (2ZR-FAE) engine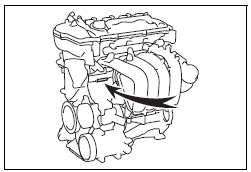 ► 2.0 L 4-cylinder (M20A-FKS) engine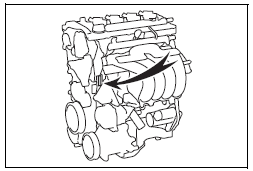 Other information:
Received messages can be forwarded from the connected Bluetooth® phone, enabling checking and replying using the system. Depending on the type of Bluetooth® phone connected, received messages may not be transferred to the system. If the phone does not support the message function, this function cannot be used. Even when the supported phone is used, reply function may not be used. Displaying ..
Compatible compressed files Corresponding sampling frequency Corresponding bit rates Compatible channel modes MP3 (MPEG Audio Layer 3), WMA (Windows Media Audio) and AAC (Advanced Audio Coding) are audio compression standards. This system can play MP3/WMA/AAC files on USB memory. MP4, WMV and AVI files can use the following resolutions: 128x96, 160x120, 176x144 (QCIF), 320x240 (QVGA..
Categories
Settings are available for clock, operation sounds, etc.
Displaying the general settings screen
1 Press the "MENU" button.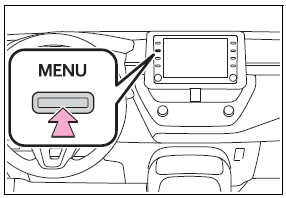 2 Select "Setup".
If the general settings screen is not displayed, select "General".
3 Select the desired items to be set.