Toyota Corolla: Other settings / Voice settings
Voice volume, etc. can be set.
Displaying the voice settings screen
1 Press the "MENU" button.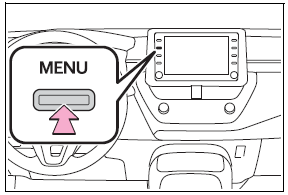 2 Select "Setup".
3 Select "Voice".
4 Select the desired items to be set.
Voice settings screen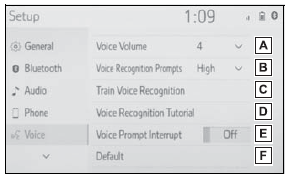 A - Select to adjust the volume of voice guidance.
B - Select to set the voice recognition prompts.
C - Select to train voice recognition. The voice command system adapts the user accent.
D - Select to start the voice recognition tutorial.
E - Select to set the voice prompt interrupt on/off.
F - Select to reset all setup items.
Categories
The contrast and brightness of the screen display and the image of the camera display can be adjusted. The screen can also be turned off, and/or changed to either day or night mode.
(For information regarding audio/visual screen adjustment)
Displaying the screen adjustment screen
1 Press the "MENU" button.