Toyota Corolla: Type A: Function achieved by using a smart phone or DCM / By using a smart phone or DCM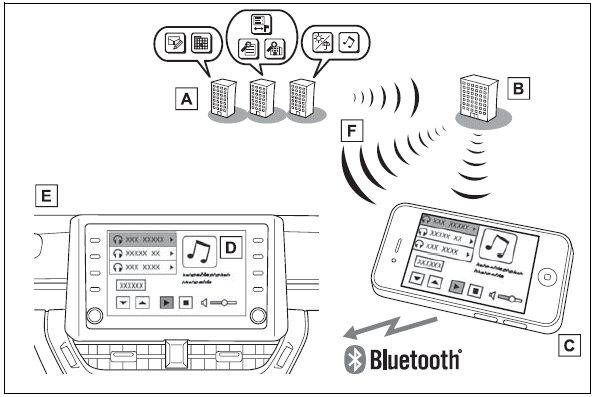 A - Content provider
Provides contents to the application server.
B - Application server
Provides applications to the system or a smart phone.
C - Smart phone
Using the Toyota mobile application, communication is relayed between the system, application server and contents provider. The smart phone cannot be operated while communicating.
D - Applications
Display usable content from the content providers on the screen using the data connection of the connected smart phone or DCM.
E- System
Content received, via a smart phone or DCM, from content provider servers is displayed on the screen. The system is equipped with an application player to run applications.
F - Via DCM
Of the functions included with Connected Services, the Toyota apps relies on the use of a smart phone or DCM. Using a smart phone Toyota audio multimedia system enables applicable apps installed on a smart phone to be displayed on and operated from the screen via a Bluetooth®...
The required operations to activate applications and connect a smart phone to the system, and the registration steps for the connected services are explained in this section...
Other information:
When constant speed control mode is selected, your vehicle will maintain a set speed without controlling the vehicle-to-vehicle distance. Select this mode only when vehicle-to-vehicle distance control mode does not function correctly due to a dirty radar, etc...
■ Trunk opener Pull the lever upward to release the trunk lid. ■ Trunk release button (vehicles with a smart key system) While carrying the electronic key, press the button on the trunk lid. When all the doors are unlocked using one of the following methods, the trunk can be opened without the electronic key: Entry function Wireless remote control Door lock switches Automatic door unloc..
Categories
Meter display
■ Locations of gauges and meters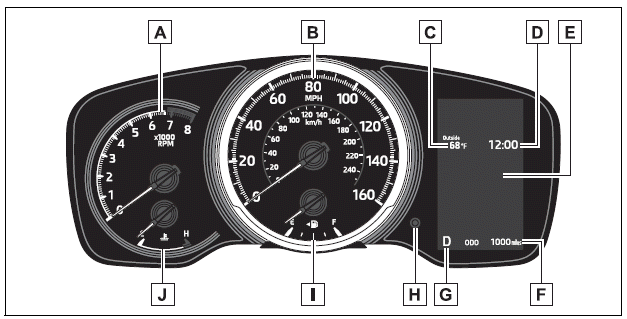 The units of measure may differ depending on the intended destination of the vehicle.
A - Tachometer Displays the engine speed in revolutions per minute