Toyota Corolla: Type A: Function achieved by using a smart phone or DCM / By using a smart phone or DCM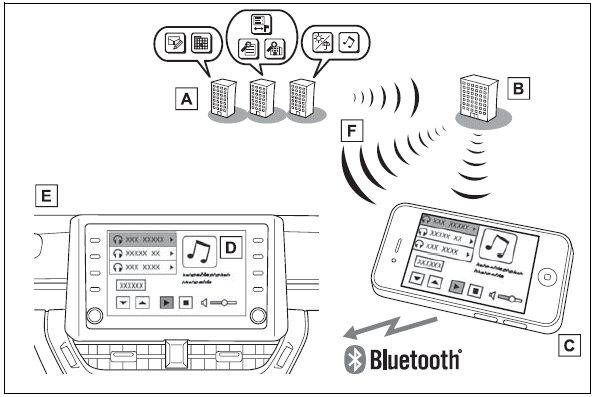 A - Content provider
Provides contents to the application server.
B - Application server
Provides applications to the system or a smart phone.
C - Smart phone
Using the Toyota mobile application, communication is relayed between the system, application server and contents provider. The smart phone cannot be operated while communicating.
D - Applications
Display usable content from the content providers on the screen using the data connection of the connected smart phone or DCM.
E- System
Content received, via a smart phone or DCM, from content provider servers is displayed on the screen. The system is equipped with an application player to run applications.
F - Via DCM
Of the functions included with Connected Services, the Toyota apps relies on the use of a smart phone or DCM. Using a smart phone Toyota audio multimedia system enables applicable apps installed on a smart phone to be displayed on and operated from the screen via a Bluetooth®...
The required operations to activate applications and connect a smart phone to the system, and the registration steps for the connected services are explained in this section...
Other information:
When the engine switch is turned to ON, the red indicator light comes on for 2 seconds then turns off. Afterward, the green indicator light comes on, indicating that the service is active. The following indicator light patterns indicate specific system usage conditions: Green indicator light on = Active service Green indicator light flashing = Safety Connect call in process Red indicator lig..
A - Meter control switches Turning the Blind Spot Monitor on/off. B - Outside rear view mirror indicators When a vehicle is detected in a blind spot of the outside rear view mirrors or approaching rapidly from behind into a blind spot, the outside rear view mirror indicator on the detected side will illuminate. If the turn signal lever is operated toward the detected side, the outside rear vie..
Categories
Meter display
■ Locations of gauges and meters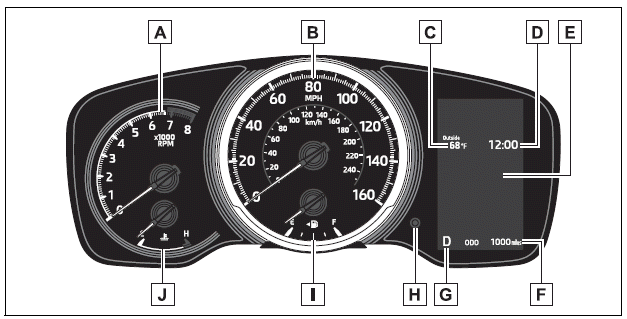 The units of measure may differ depending on the intended destination of the vehicle.
A - Tachometer Displays the engine speed in revolutions per minute