Toyota Corolla: Type A: Function achieved by using a smart phone or DCM / Before using the function
The required operations to activate applications and connect a smart phone to the system, and the registration steps for the connected services are explained in this section.
■ Subscription
Toyota apps does not require an activation fee or monthly recurring fees.
Services requiring a separate contract can also be used.*
■ Availability of function
Toyota apps is available in the contiguous United States, Washington D.C., Alaska, Hawaii, Puerto Rico and Canada.
Toyota apps is not available in the United States Virgin Islands.
■ Initializing personal data
The personal data used in applications can be reset.
The following personal data can be deleted and returned to their default settings:
Downloaded contents
Radio stations that were listened to
Once initialized, the data and settings will be erased. Pay much attention when initializing the data.
Categories
Settings are available for clock, operation sounds, etc.
Displaying the general settings screen
1 Press the "MENU" button.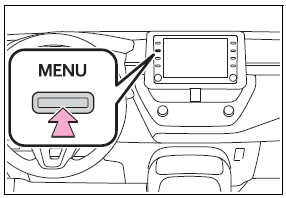 2 Select "Setup".
If the general settings screen is not displayed, select "General".
3 Select the desired items to be set.