Toyota Corolla: Tips for operating the audio/visual system. Operating information / Compatible audio format
Compatible compressed files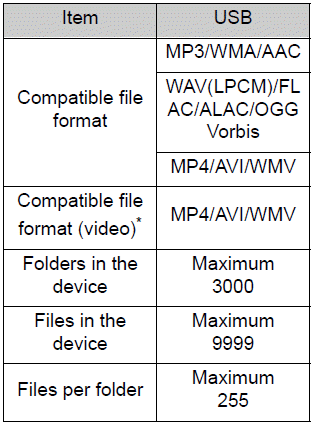 Corresponding sampling frequency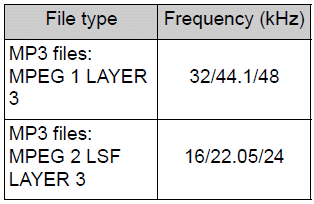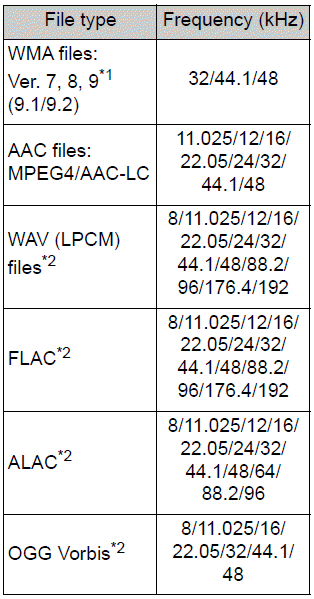 Corresponding bit rates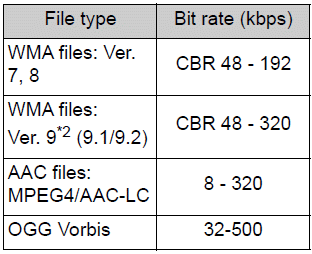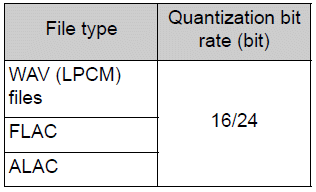 Compatible channel modes
MP3 (MPEG Audio Layer 3), WMA (Windows Media Audio) and AAC (Advanced Audio Coding) are audio compression standards.
This system can play MP3/WMA/AAC files on USB memory.
MP4, WMV and AVI files can use the following resolutions: 128x96, 160x120, 176x144 (QCIF), 320x240 (QVGA), 352x240 (SIF), 352x288 (CIF), 640x480 (VGA), 720x480 (NTSC), 720x576 (PAL)
When naming an MP3/WMA/AAC file, add an appropriate file extension (.mp3/.wma/.m4a).
This system plays back files with .mp3/.wma/.m4a file extensions as MP3/WMA/AAC files respectively. To prevent noise and playback errors, use the appropriate file extension.
MP3 files are compatible with the ID3 Tag Ver. 1.0, Ver. 1.1, Ver. 2.2 and Ver. 2.3 formats. This system cannot display disc title, track title and artist name in other formats.
WMA/AAC files can contain a WMA/AAC tag that is used in the same way as an ID3 tag. WMA/AAC tags carry information such as track title and artist name.
The emphasis function is available only when playing MP3 files.
This system can play back AAC files encoded by iTunes.
The sound quality of MP3/WMA files generally improves with higher bit rates.
m3u playlists are not compatible with the audio player.
MP3i (MP3 interactive) and MP3PRO formats are not compatible with the audio player.
The player is compatible with VBR (Variable Bit Rate).
When playing back files recorded as VBR (Variable Bit Rate) files, the play time will not be correctly displayed if the fast forward or reverse operations are used.
It is not possible to check folders that do not include MP3/WMA/AAC files.
MP3/WMA/AAC files in folders up to 8 levels deep can be played. However, the start of playback may be delayed when using USB memory containing numerous levels of folders. For this reason, we recommend creating USB memory with no more than 2 levels of folders.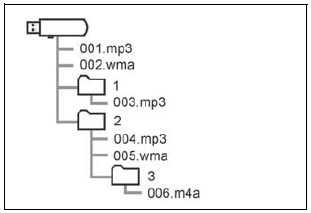 The play order of the USB memory with the structure shown above is as follows:
The order changes depending on the personal computer and MP3/WMA/AAC encoding software you use.
Compatible video format
■ ID3 tag This is a method of embedding track-related information in an MP3 file. This embedded information can include the track number, track title, the artist's name, the album title, the music genre, the year of production, comments, cover art and other data...
Other information:
The Bluetooth® device's information can be displayed on the screen. The displayed information can be edited. This operation cannot be performed while driving. 1 Display the Bluetooth® settings screen. 2 Select "Registered Device". 3 Select the desired device to be edited...
The following may indicate that your vehicle is overheating. The engine coolant temperature gauge (®P.91, 95) is in the red zone or a loss of engine power is experienced. (For example, the vehicle speed does not increase.) "Engine Coolant Temp High Stop in a Safe Place See Owner's Manual" is shown on the multi-information display...
Categories
Location of the interior lights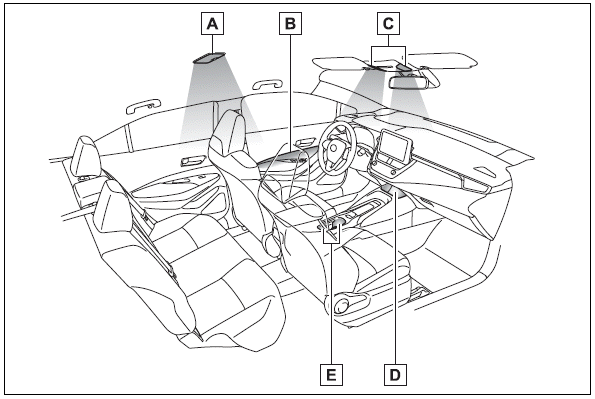 A - Rear interior light
B - Door trim lights
C - Front interior/personal lights
D - Center tray light
Copyright © 2022 www.tocorolla12.com