Toyota Corolla: Tips for operating the audio/visual system. Operating information / Terms
■ ID3 tag
This is a method of embedding track-related information in an MP3 file. This embedded information can include the track number, track title, the artist's name, the album title, the music genre, the year of production, comments, cover art and other data. The contents can be freely edited using software with ID3 tag editing functions. Although the tags are restricted to a number of characters, the information can be viewed when the track is played back.
■ WMA tag
WMA files can contain a WMA tag that is used in the same way as an ID3 tag. WMA tags carry information such as track title and artist name.
■ MP3
MP3 is an audio compression standard determined by a working group (MPEG) of the ISO (International Standard Organization). MP3 compresses audio data to about 1/10 the size of that on conventional discs.
■ WMA
WMA (Windows Media Audio) is an audio compression format developed by Microsoft®. It compresses files into a size smaller than that of MP3 files. The decoding formats for WMA files are Ver. 7, 8 and 9.
This product includes technology owned by Microsoft Corporation and cannot be used or distributed without a license from Microsoft Licensing, Inc.
■ AAC
AAC is short for Advanced Audio Coding and refers to an audio compression technology standard used with MPEG2 and MPEG4.
Compatible compressed files Corresponding sampling frequency Corresponding bit rates Compatible channel modes MP3 (MPEG Audio Layer 3), WMA (Windows Media Audio) and AAC (Advanced Audio Coding) are audio compression standards...
■ USB ■ iPod ■ Bluetooth® audio If the malfunction is not rectified: Take your vehicle to your Toyota dealer...
Other information:
The RCTA function uses the BSM rear side radar sensors installed behind the rear bumper. This function is intended to assist the driver in checking areas that are not easily visible when backing up. System components A - Meter control switches Turning the RCTA function on/off. When the RCTA function is disabled, the RCTA OFF indicator illuminates. B - Outside rear view mirror indicators When a..
The Automatic High Beam uses a camera sensor located behind the upper portion of the windshield to assess the brightness of the lights of vehicles ahead, streetlights, etc., and automatically turns the high beams on or off as necessary. WARNING ■Limitations of the Automatic High Beam Do not overly rely on the Automatic High Beam. Always drive safely, taking care to observe your surroundings a..
Categories
■ Smart key system (if equipped)
Carry the electronic key to enable this function.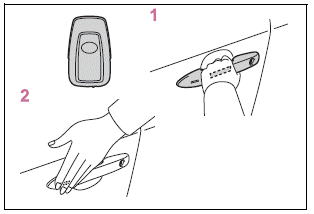 1 Grip the driver's door handle to unlock the door. Holding the driver's door handle for approximately 2 seconds unlocks all the doors. Grip the front passenger's door handle to unlock all the doors.*