Toyota Corolla: Tips for operating the audio/visual system. Operating information / Terms
■ ID3 tag
This is a method of embedding track-related information in an MP3 file. This embedded information can include the track number, track title, the artist's name, the album title, the music genre, the year of production, comments, cover art and other data. The contents can be freely edited using software with ID3 tag editing functions. Although the tags are restricted to a number of characters, the information can be viewed when the track is played back.
■ WMA tag
WMA files can contain a WMA tag that is used in the same way as an ID3 tag. WMA tags carry information such as track title and artist name.
■ MP3
MP3 is an audio compression standard determined by a working group (MPEG) of the ISO (International Standard Organization). MP3 compresses audio data to about 1/10 the size of that on conventional discs.
■ WMA
WMA (Windows Media Audio) is an audio compression format developed by Microsoft®. It compresses files into a size smaller than that of MP3 files. The decoding formats for WMA files are Ver. 7, 8 and 9.
This product includes technology owned by Microsoft Corporation and cannot be used or distributed without a license from Microsoft Licensing, Inc.
■ AAC
AAC is short for Advanced Audio Coding and refers to an audio compression technology standard used with MPEG2 and MPEG4.
Compatible compressed files Corresponding sampling frequency Corresponding bit rates Compatible channel modes MP3 (MPEG Audio Layer 3), WMA (Windows Media Audio) and AAC (Advanced Audio Coding) are audio compression standards...
■ USB ■ iPod ■ Bluetooth® audio If the malfunction is not rectified: Take your vehicle to your Toyota dealer...
Other information:
The vehicle's keys have built-in transponder chips that prevent the engine from starting if a key has not been previously registered in the vehicle's on-board computer. Never leave the keys inside the vehicle when you leave the vehicle. This system is designed to help prevent vehicle theft but does not guarantee absolute security against all vehicle thefts. Operating the system ► Vehicles..
When the engine switch is turned to ON, the red indicator light comes on for 2 seconds then turns off. Afterward, the green indicator light comes on, indicating that the service is active. The following indicator light patterns indicate specific system usage conditions: Green indicator light on = Active service Green indicator light flashing = Safety Connect call in process Red indicator lig..
Categories
■ Smart key system (if equipped)
Carry the electronic key to enable this function.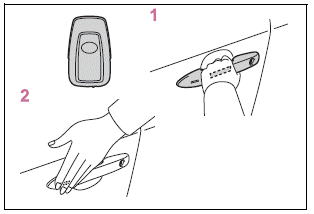 1 Grip the driver's door handle to unlock the door. Holding the driver's door handle for approximately 2 seconds unlocks all the doors. Grip the front passenger's door handle to unlock all the doors.*