Toyota Corolla: Setting Bluetooth® details / Connecting a Bluetooth® device
Up to 5 Bluetooth® devices (Phones (HFP) and audio players (AVP)) can be registered.
If more than 1 Bluetooth® device has been registered, select which device to connect to.
1 Display the Bluetooth® settings screen.
2 Select "Registered Device".
3 Select the device to be connected.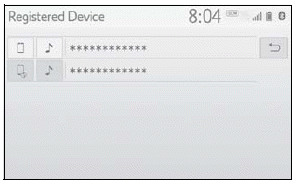 : Phone

: Audio player

: Phone/Toyota apps services
The profile icon for a currently connected device will be displayed in color.
Selecting a profile icon which is not currently connected will switch the connection to the function.
If the desired Bluetooth® device is not on the list, select "Add New Device" to register the device.
4 Select the desired connection.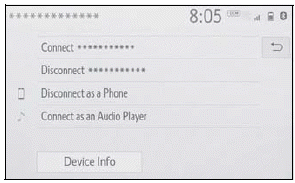 "Device Info": Select to confirm and change the Bluetooth® device information.
When another Bluetooth® device is connected To disconnect the Bluetooth® device, select "Yes".
5 Check that a confirmation screen is displayed when the connection is complete.
If an error message is displayed, follow the guidance on the screen to try again.
It may take time if the device connection is carried out during Bluetooth ® audio playback.
Depending on the type of Bluetooth ® device being connected, it may be necessary to perform additional steps on the device.
When disconnecting a Bluetooth® device, it is recommended to disconnect using the system.
■ Auto connection mode
To turn auto connection mode on, set "Bluetooth Power" to on. Leave the Bluetooth® device in a location where the connection can be established.
When the engine switch is in ACC or ON, the system searches for a nearby registered device.
The system will connect with the registered device that was last connected, if it is nearby. When automatic connection priority is set to on and there is more than one registered Bluetooth® phone available, the system will automatically connect to the Bluetooth® phone with the highest priority.
■ Connecting manually
When the auto connection has failed or "Bluetooth Power" is turned off, it is necessary to connect the Bluetooth® device manually.
1 Display the Bluetooth® settings screen.
2 Follow the steps in "Connecting a Bluetooth® device" from step 2.
■ Reconnecting the Bluetooth ® phone
If a Bluetooth® phone is disconnected due to poor reception from the Bluetooth® network when the engine switch is in ACC or ON, the system automatically reconnects the Bluetooth ® phone.