Toyota Corolla: Phone settings. Setup / Contacts/Call history settings screen
Contacts can be transferred from a Bluetooth® phone to this system. Contacts and favorites can be added, edited and deleted. Also, the call history can be deleted.
1 Display the phone settings screen.
2 Select "Contacts/Call History".
3 Select the desired item to be set.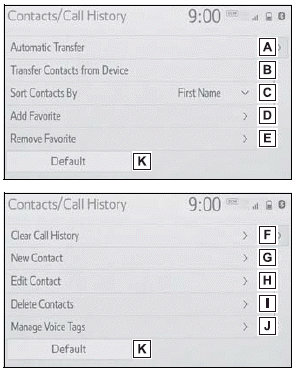 A - For PBAP compatible Bluetooth ® phones: Select to change the contact/history transfer settings.
B - Select to update contacts from the connected device.
C - Select to sort contacts by the first name or last name field.
D - Select to add contacts to the favorites list.
E - Select to delete contacts from the favorites list.
F - Select to clear the call history.
G - Select to add new contacts to the contact list.
H - Select to edit contacts in the contact list.
I - Select to delete contacts from the contact list.
J - Select to set the voice tags.
K - Select to reset all setup items.
Depending on the type of Bluetooth ® phone, certain functions may not be available.
Contact data is managed independently for every registered phone. When one phone is connected, another phone's registered data cannot be read.
Categories
■ Trunk opener
Pull the lever upward to release the trunk lid.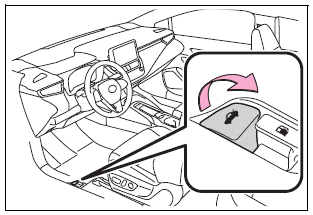 ■ Trunk release button (vehicles with a smart key system)
While carrying the electronic key, press the button on the trunk lid.
When all the doors are unlocked using one of the following methods, the trunk can be opened without the electronic key:
Entry function Wireless remote control Door lock switches Automatic door unlocking system Mechanical key