Toyota Corolla: Phone settings. Setup / Setting automatic contact/ history transfer
The automatic contact/history function is available for PBAP compatible Bluetooth® phones only.
1 Select "Automatic Transfer".
2 Select the desired item to be set.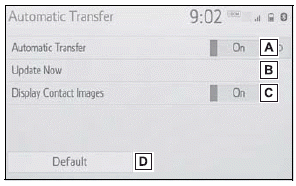 A - Select to set automatic contact/ history transfer on/off. When set to on, the phone's contact data and history are automatically transferred.
B - Select to update contacts from the connected phone.
C - Select to set the transferred contact image display on/off. Only when the vehicle is not moving, the contact image can be displayed.
D - Select to reset all setup items.
■ Updating contacts from phone
1 Select "Update Now".
Contacts are transferred automatically.
2 Check that a confirmation screen is displayed when the operation is complete.
This operation may be unnecessary depending on the type of Bluetooth® phone.
If another Bluetooth® device is connected when transferring contact data, depending on the phone, the connected Bluetooth® device may need to be disconnected.
Depending on the type of Bluetooth® phone being connected, it may be necessary to perform additional steps on the phone.
■ Updating the contacts in a different way (from the call history screen)
1 Display the phone top screen.
2 Select "History" and select a contact not yet registered in the contact list.
3 Select "Update Contact".
4 Select the desired contact.
5 Select a phone type for the phone number.
Contacts can be transferred from a Bluetooth® phone to this system. Contacts and favorites can be added, edited and deleted. Also, the call history can be deleted...
When an Android Auto connection is established, this function will be unavailable. From phone (OPP compatible Bluetooth® phones only) ► When the contact is not registered 1 Select "Transfer Contacts from Device"...
Other information:
To change the set speed, press the "+RES" or "-SET" switch until the desired set speed is displayed. 1 Increases the speed (Except when the vehicle has been stopped by system control in vehicle-to-vehicle distance control mode) 2 Decreases the speed Fine adjustment: Press the switch...
Select the shift position depending on your purpose and situation. Shift position purpose and functions ■When driving with the dynamic radar cruise control or dynamic radar cruise control with full-speed range activated Even when switching the driving mode to sport mode with the intent of enabling engine braking, engine braking will not occur because dynamic radar cruise control or dynamic r..