Toyota Corolla: Phone settings. Setup / Setting automatic contact/ history transfer
The automatic contact/history function is available for PBAP compatible Bluetooth® phones only.
1 Select "Automatic Transfer".
2 Select the desired item to be set.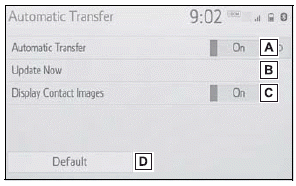 A - Select to set automatic contact/ history transfer on/off. When set to on, the phone's contact data and history are automatically transferred.
B - Select to update contacts from the connected phone.
C - Select to set the transferred contact image display on/off. Only when the vehicle is not moving, the contact image can be displayed.
D - Select to reset all setup items.
■ Updating contacts from phone
1 Select "Update Now".
Contacts are transferred automatically.
2 Check that a confirmation screen is displayed when the operation is complete.
This operation may be unnecessary depending on the type of Bluetooth® phone.
If another Bluetooth® device is connected when transferring contact data, depending on the phone, the connected Bluetooth® device may need to be disconnected.
Depending on the type of Bluetooth® phone being connected, it may be necessary to perform additional steps on the phone.
■ Updating the contacts in a different way (from the call history screen)
1 Display the phone top screen.
2 Select "History" and select a contact not yet registered in the contact list.
3 Select "Update Contact".
4 Select the desired contact.
5 Select a phone type for the phone number.