Toyota Corolla: Phone operation (Hands-free system for cellular phones) / Receiving a call using the Bluetooth® hands-free system
When a call is received, the following screen is displayed with a sound.
Incoming calls
1 Select "Answer" or press the

switch on the steering wheel to talk on the phone.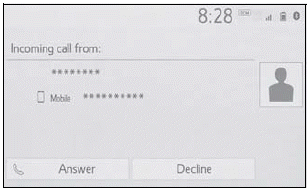 "Decline": Select to refuse to receive the call.
To adjust the volume of a received call: Turn the "POWER VOLUME" knob, or use the volume control switch on the steering wheel.
The contact image picture can be displayed only when the vehicle is not moving.
During international phone calls, the other party's name or number may not be displayed correctly depending on the type of Bluetooth ® phone you have.
The incoming call display mode can be set.
The ringtone that has been set in the sound settings screen can be heard when there is an incoming call. Depending on the type of Bluetooth® phone, both the system and Bluetooth® phone may ring simultaneously when there is an incoming call.
After a Bluetooth® phone has been registered, a call can be made using the hands-free system. There are several methods by which a call can be made, as described below...
While talking on the phone, the following screen is displayed. The operations outlined below can be performed on this screen. Call screen operation A - Select to display the keypad to send tones...
Other information:
Opening and closing the power windows The power windows can be opened and closed using the switches. Operating the switch moves the windows as follows: 1 Closing<> 2 One-touch closing*<> 3 Opening<> 4 One-touch opening* ■The power windows can be operated when The engine switch is in ON...
When the engine switch is turned to ON, the red indicator light comes on for 2 seconds then turns off. Afterward, the green indicator light comes on, indicating that the service is active. The following indicator light patterns indicate specific system usage conditions: Green indicator light on = Active service Green indicator light flashing = Safety Connect call in process Red indicator lig..
Categories
Settings are available for clock, operation sounds, etc.
Displaying the general settings screen
1 Press the "MENU" button.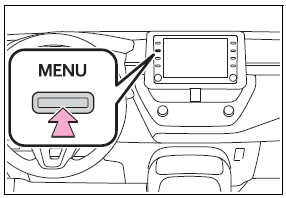 2 Select "Setup".
If the general settings screen is not displayed, select "General".
3 Select the desired items to be set.