Toyota Corolla: Basic information before operation / Entering letters and numbers/ list screen operation
Entering letters and numbers
When searching by a name or entering data, letters and numbers can be entered via the screen.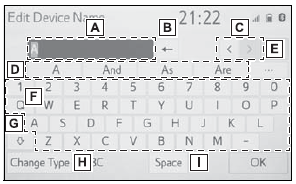 A - Text field. Entered character( s) will be displayed.
B - Select to erase one character. Select and hold to continue erasing characters.
C - Select to move the cursor.
D - Select to choose predictive text candidate for entered text.
E - Select to display a list of predictive text candidates when there is more than one.
F - Select to enter desired characters.
G - Select to enter characters in lower case or in upper case
H - Select to change character types.
I - Select to make a space on cursor.
Changing character type
1 Select "Change Type".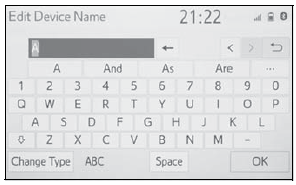 2 Select the desired character.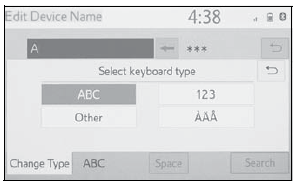 Depending on the screen being displayed, it may not be possible to change keyboard characters.
Displaying predictive text candidates
When text is input, the system predicts the text that may complete the currently unconfirmed text and displays predictive replacement candidates that match the beginning of the text.
1 Input text.
2 Select the desired candidate.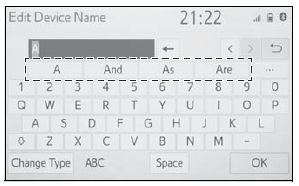 To select a candidate that is not displayed, select

, and then select the desired predictive replacement candidate.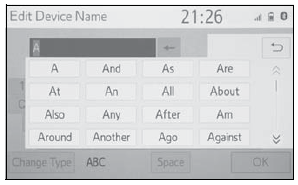 List screen
The list screen may be displayed after entering characters. When a list is displayed, use the appropriate screen button to scroll through the list.
Scrolling list screen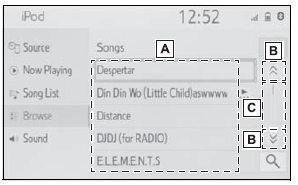 A - To scroll up/down the list, flick the list up/down.
B - Select to skip to the next or previous page. Select and hold

or

to scroll through the displayed list. Indicates the position of the displayed entries in the entire list.
C - To scroll up/down pages, drag the bar.
If

appears to the right of an item name, the complete name is too long to display.
Select to scroll to the end of the name.
Select to move to the beginning of the name.
Searching a list
Items are displayed in the list with the most similar results of the search at the top.
1 Select

.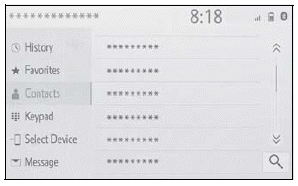 2 Input text.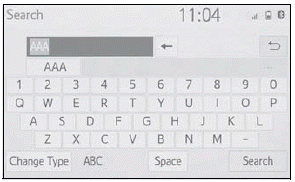 3 Select "Search".
4 The list is displayed.