Toyota Corolla: Audio / Radio operation. Internet radio
One of Toyota apps Connect features is the ability to listen to internet radio. In order to use this service, a compatible phone and the system needs to be set up. For details:
Other applications can be activated while listening to internet radio.
Some parts of applications can be adjusted using the switches on the steering wheel.
For additional information, refer to https://www.toyota.com/ audio-multimedia or call 1-800-331-4331 in the United States, https://www.toyota.ca/connected or call 1-888-869-6828 in Canada, and http://www.toyotapr.com/ audio-multimedia or call 1-877-855-8377 in Puerto Rico.
Listening to internet radio
1 Display the audio source selection screen.
2 Select the desired application screen button.
The internet radio application screen is displayed.
Perform operations according to the displayed application screen.
For the instrument panel operation method:
If a compatible phone is already registered, it will be connected automatically.
When problems occur with the SiriusXM tuner, a message will appear on the screen. Referring to the table below to identify the problem, take the suggested corrective action...
Other information:
If you notice any of the following symptoms, your vehicle probably needs adjustment or repair. Contact your Toyota dealer as soon as possible. Visible symptoms Fluid leaks under the vehicle. (Water dripping from the air conditioning after use is normal.) Flat-looking tires or uneven tire wear Engine coolant temperature gauge needle continually points higher than normal. Audible symptoms ..
Touch screen gestures Operations are performed by touching the touch screen directly with your finger. Flick operations may not be performed smoothly at high altitudes. Touch screen operation This system is operated mainly by the buttons on the screen. (Referred to as screen buttons in this manual.) When a screen button is touched, a beep sounds. (To set the beep sound: If the system does not ..
Categories
Meter display
■ Locations of gauges and meters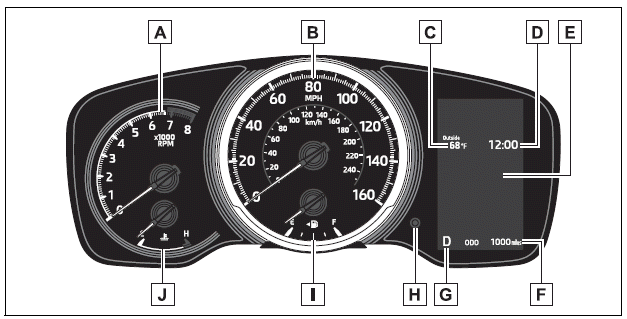 The units of measure may differ depending on the intended destination of the vehicle.
A - Tachometer Displays the engine speed in revolutions per minute