Toyota Corolla: Basic function / "Setup" screen
"Setup" screen
Press the "MENU" button, then select "Setup" to display the "Setup" screen. The items shown on the "Setup" screen can be set.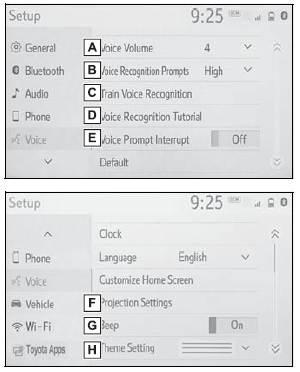 A - Select to change the selected language, operation sound settings, etc.
B - Select to set Bluetooth® device and Bluetooth® system settings.
C - Select to set audio settings.
D - Select to set the phone sound, contacts, message settings, etc.
E - Select to set the voice settings.
F - Select to set vehicle information.
G - Select to set Wi-Fi® connection settings.
H - Select to set Toyota apps settings.
Other information:
■ Operation of the RCTA function The RCTA function uses rear side radar sensors to detect vehicles approaching from the right or left at the rear of the vehicle and alerts the driver of the presence of such vehicles by flashing the outside rear view mirror indicators and sounding a buzzer. A - Approaching vehicles B - Detection areas of approaching vehicles ■ RCTA icon display When a vehic..
You must only use unleaded gasoline. Select octane rating of 87 (Research Octane Number 91) or higher. Use of unleaded gasoline with an octane rating lower than 87 may result in engine knocking. Persistent knocking can lead to engine damage. At minimum, the gasoline you use should meet the specifications of ASTM D4814 in the U.S.A. ■ Gasoline quality In very few cases, driveability problems m..