Toyota Corolla: Audio / What to do if... (Bluetooth ®). Troubleshooting
If there is a problem with the hands-free system or a Bluetooth® device, first check the table below.
Troubleshooting
■ When using the hands-free system with a Bluetooth® device
The hands-free system or Bluetooth ® device does not work.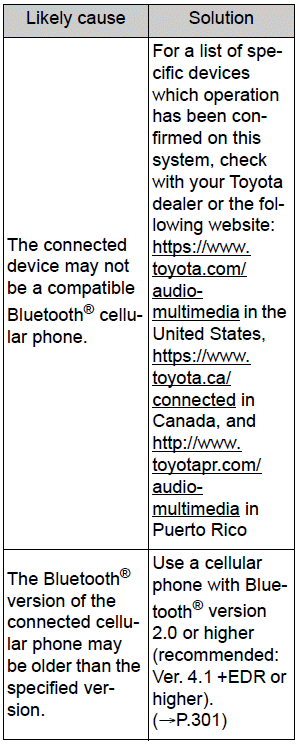 ■ When registering/connecting a cellular phone
A cellular phone cannot be registered.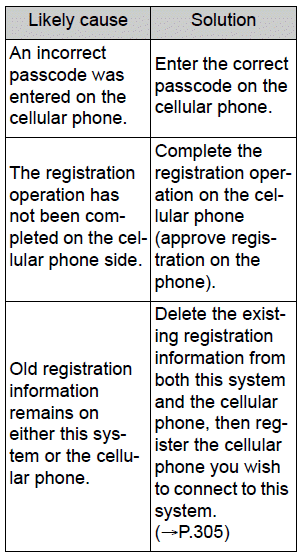 A Bluetooth® connection cannot be made.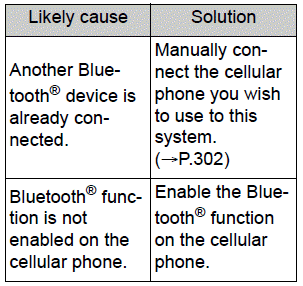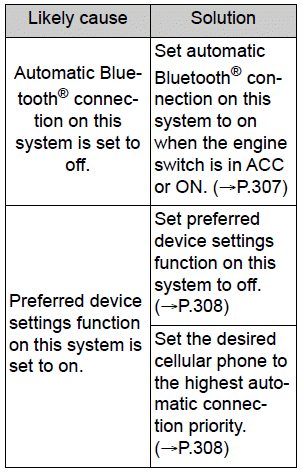 ■ When making/receiving a call
A call cannot be made/received.
■ When using the phonebook
Phonebook data cannot be transferred manually/automatically.

Phonebook data cannot be edited.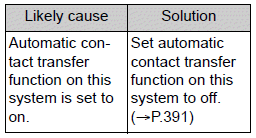 ■ When using the Bluetooth® message function
Messages cannot be viewed.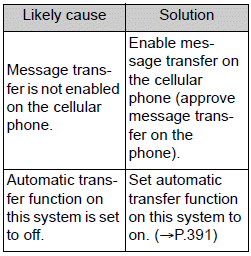 New message notifications are not displayed.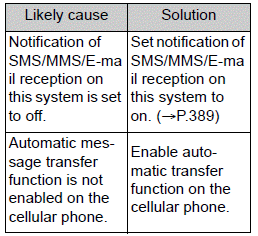 ■ In other situations
The Bluetooth® connection status is displayed at the top of the screen each time the engine switch is in ACC or ON.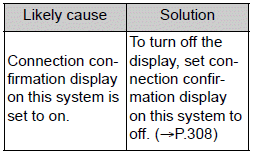 Even though all conceivable measures have been taken, the symptom status does not change.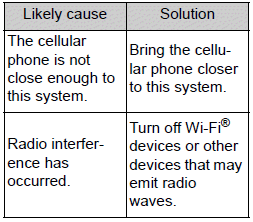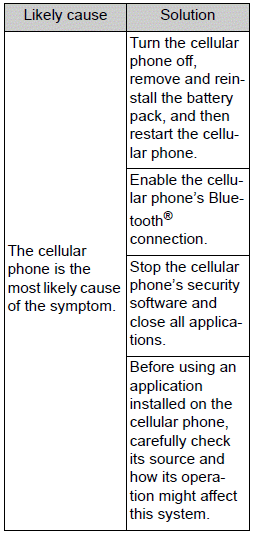 For details, refer to the owner's manual that came with the cellular phone.
1 Select "Vehicle Signature" 2 Select the desired item to be set. A - Select to set adding the vehicle signature to outgoing messages on/off. B - Select to edit the vehicle signature...
Other information:
Perform cleaning in a manner appropriate to each component and its material. Cleaning instructions Working from top to bottom, liberally apply water to the vehicle body, wheel wells and underside of the vehicle to remove any dirt and dust. Wash the vehicle body using a sponge or soft cloth, such as a chamois. For hard-to-remove marks, use car wash soap and rinse thoroughly with water. Wipe ..
The air conditioning filter must be changed regularly to maintain air conditioning efficiency. Removing the air conditioning filter 1 Turn the engine switch off. 2 Open the glove box. Slide off the damper (if equipped). 3 Push in the glove box on the vehicle's outer side to disconnect the claws. Then pull out the glove box and disconnect the lower claws. 4 Unlock the filter cover (A), pull t..
Categories
The contrast and brightness of the screen display and the image of the camera display can be adjusted. The screen can also be turned off, and/or changed to either day or night mode.
(For information regarding audio/visual screen adjustment)
Displaying the screen adjustment screen
1 Press the "MENU" button.