Toyota Corolla: Phone settings. Setup / Vehicle signature settings
1 Select "Vehicle Signature"
2 Select the desired item to be set.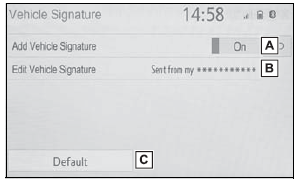 A - Select to set adding the vehicle signature to outgoing messages on/off.
B - Select to edit the vehicle signature.
C - Select to reset all setup items.
■ Editing vehicle signature
1 Select "Edit Vehicle Signature".
2 Enter desired signature with using keyboard.
3 Select "OK".
4 Select "OK" on the confirmation screen, or select "Edit Again" when it needs to amend.
Categories
■ Smart key system (if equipped)
Carry the electronic key to enable this function.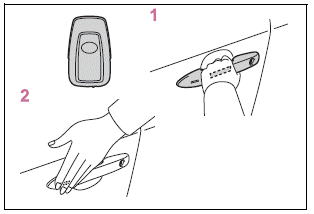 1 Grip the driver's door handle to unlock the door. Holding the driver's door handle for approximately 2 seconds unlocks all the doors. Grip the front passenger's door handle to unlock all the doors.*