Toyota Corolla: Maintenance data (fuel, oil level, etc.) / Clutch & Brakes
Clutch

Brakes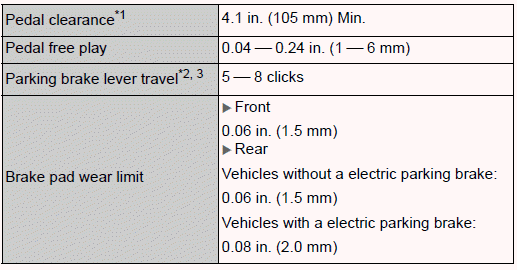 Minimum pedal clearance when depressed with a force of 67.4 lbf (300 N, 30.6 kgf) while the engine is running.
Parking brake lever travel when pulled up with a force of 45.0 lbf (200 N, 20.4 kgf)
Make sure to confirm that the brake system warning light (yellow) does not illuminate. (If the brake system warning light illuminates, refer to P.511.)
NOTICE ■ Manual transmission gear oil type Please be aware that depending on the particular characteristics of the gear oil used or the operating conditions, idle sound, shift feeling and/or fuel efficiency may be different or affected and, in the worst case, damage to the vehicle's transmission...
Steering Steering Less than 1.2 in. (30 mm) Tires and wheels ► Type A ► Type B ► Type C ► Type D ► Type E ► Type F ..
Other information:
■ Certification Use of the Made for Apple badge means that an accessory has been designed to connect specifically to the Apple product(s) identified in the badge, and has been certified by the developer to meet Apple performance standards. Apple is not responsible for the operation of this device or its compliance with safety and regulatory standards. Please note that the use of this ..
■ ID3 tag This is a method of embedding track-related information in an MP3 file. This embedded information can include the track number, track title, the artist's name, the album title, the music genre, the year of production, comments, cover art and other data. The contents can be freely edited using software with ID3 tag editing functions. Although the tags are restricted to a number of..
Categories
Meter display
■ Locations of gauges and meters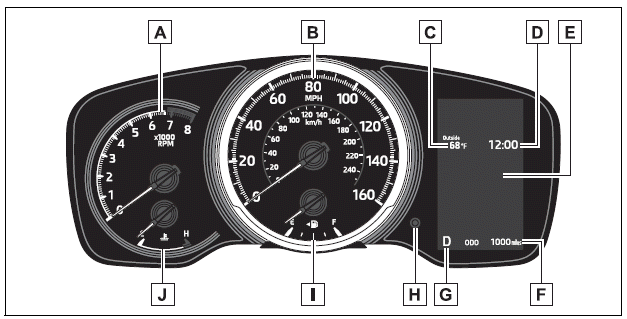 The units of measure may differ depending on the intended destination of the vehicle.
A - Tachometer Displays the engine speed in revolutions per minute